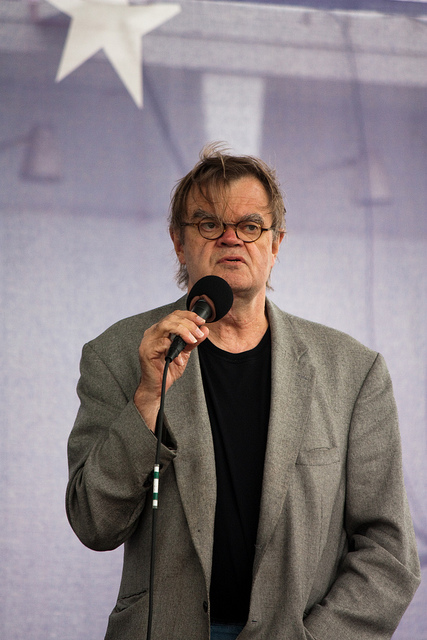 The ability to relate to people is a hallmark of wisdom. We can sum up wit with one observation: Some people know how to tell a joke, some don't.
Real
True Narratives
Garrison Keillor's work is a real-time narrative of wit. His humor offers the comforting warmth of a fire in the hearth.
Garrison Keillor's columns:
Groucho Marx:
General narratives:
Oscar Wilde:
Other great witticists:
Wit, in print:
Imaginary
Fictional Narratives
Oscar Wilde, The Importance of Being Earnest: A Trivial Comedy for Serious People (1895), the master witticist's magnum opus, uses a sharp stick to poke fun at the mores and conventions of Victorian England.
Garrison Keillor's books:
Audio:
Other works:
Film and Stage
Visual Arts
Music: songs and other short pieces
Music: Composers, artists, and major works
In his three "Razumovsky" string quartets, Op. 59 (1806), Beethoven played, with extraordinary intelligence and understanding, with Russian themes. Like a person of great wisdom encountering someone new, Beethoven expanded on those themes in a variety of ways, challenging listeners to keep up with him.
Jazz saxophonist Sonny Rollins could insert new musical themes into his live performances to suit a momentary occasion, such as the time he began playing a riff on "Auld Lang Syne" during a performance of a standard jazz work when new year arrived. When some friends and I saw him perform in Newark a few years ago, when he was well into his seventies, one of my friends remarked that she hoped he could remember the tunes without falling over; I assured her that he could play them at great length, in his sleep. Asleep, Sonny Rollins has more musical facility than most of us have while awake.
Frank Zappa albums:
The Bobs (an a capella quartet with a twisted sense of humor) albums:
Guitarist and blues singer Doug MacLeod approaches the blues with a keen wit, often poking fun at sentiment. His albums include:
In these two piano concerti by Bacevičius, the soloist flits in, out and about impishly, while members of the orchestra make offhand remarks:
Other compositions:
Albums:
Poetry
I lost my patronage in Spoon River
From trying to put my mind in the camera
To catch the soul of the person.
The very best picture I ever took
Was of Judge Somers, attorney at law.
He sat upright and had me pause
Till he got his cross-eye straight.
Then when he was ready he said "all right."
And I yelled "overruled" and his eye turned up.
And I caught him just as he used to look
When saying "I except."
[Edgar Lee Masters, "Penniwit, the Artist"]
Other poems:
Poetry books: