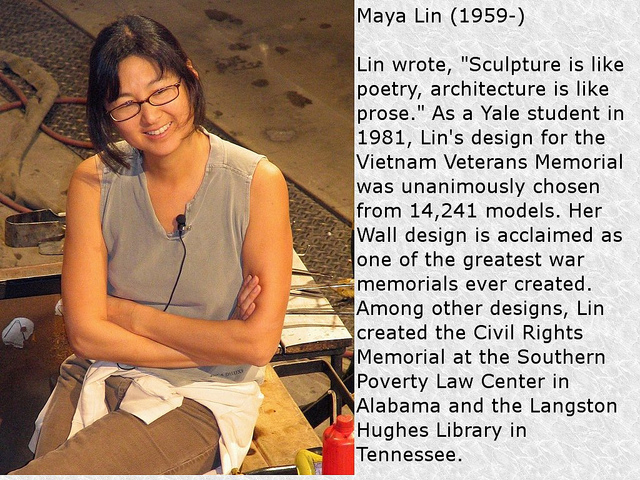 As some people have a talent for wit, some have a talent for expressing themselves in a way that others clearly understand. Their words may not be technically precise but they convey worlds of meaning. This is the ideal of clarity in human relations.
Real
True Narratives
The architect Maya Lin displays a rare talent for distilling a project that can be as daunting as a war memorial and as broad as the American Civil Rights movement to its essence and then expressing it architecturally. In the Academy-Award winning documentary about her early years, she reveals her deeply intellectual process for cutting to the core of meaning and emotion. PBS also offers information about her life and career. See also these excellent and informative links, and these videos.
Other narratives on clarity:
Imaginary
Film and Stage
Maya Lin: A Strong Clear Vision. The young architectural student who designed the Vietnam Veterans' Memorial and is the subject of this documentary film exudes a talent for distilling her subject to its essence and then expressing it architecturally in a moving and unmistakable way. In achieving that clarity, she also captures the essence of simplicity in a way that distinguishes it from simple-mindedness. There is nothing simple-minded about the architectural genius Maya Lin. Of her Vietnam Veterans' Memorial, Roger Ebert writes that it "perfectly filled the assignment: It did exactly what it was intended to do, and absolutely nothing else. To visit it is to realize that it is perfect."
Music: Composers, artists, and major works
Claude Debussy admired older French music for its "clarity of expression, that precision and compactness of form". These qualities are evident in his solo piano music:
Sophie Pacini plays with exceptional clarity, and also exceptional depth, facility, nuance and precision. Her playing transcends that of other gifted and well-known pianists. Her albums include "Rimembranza", "In Between: Schumann and Mendelssohn", "Beethoven Liszt: Solo Piano", "Chopin", (an album of Schumann and Liszt), "Schumann, Piano Concerto; Mozart, Piano Concerto".
These albums by electronic-minimalist Klaus Wiese use Tibetan singing bowls to create a trance-like effect:
Other albums:
Patricia Barber, "

Clique

": the singer's placement, along with the album's romantic theme, yields an outstanding clarity of sound and intent.

John Stowell and Dan Dean, "Rain Painting": " I am swept away by the clarity and meditative power of the melodies and the skill of Dan to orchestrate them." [Frank Kohl, Cadence magazine, April May June 2021 issue, p. 105.]
Arbenz, Mehari, Veras, "Conversation #1": " The recording quality is . . . especially well done, giving the listener the pleasure of hearing each instrument with pristine clarity and separation." [Frank Kohl, Cadence magazine, July August September 2021 issue, p. 74.]
Paul Shaw Quintet, "Moment of Clarity"
Unhinged Sextet, "Clarity"
The Spin Quartet, "In Circles": "The absence of a piano or guitar from the instrumentation of two horns, bass, and drums gives clarity and an open quality to the music . . ." [Don Lerman, Cadence magazine, Annual edition 2015, p. 207.]
Tal Gur, "Under Contractions", is "an interesting amalgam of improvisational approaches, a program realized with clarity and conviction by the assured players." [Jason Blivins, Cadence magazine, Annual edition 2015, p. 221.]
Jessica Williams, "With Love": ". . . her playing is consistently lyrical and precise. Every note has the clarity and spacing of a harp." [Cadence magazine, July August September 2014 issue, p. 124.]
Parker Quartet & Kim Kashkashian, "Kurtág: Six moments musicaux, Officium breve; Dvořák: String Quartet op. 97": ". . . the sound has a spaciousness and an unsparing clarity whose coolness is offset by the freedom it gives the performers to respond to the music, in playing of often astonishing colous, subtlety and rhythmic range." [Richard Bratby, Gramophone magazine, November 2021 issue, p. 51.]
Compositions:
From the dark side:
Fictional Narratives
Novels and stories: