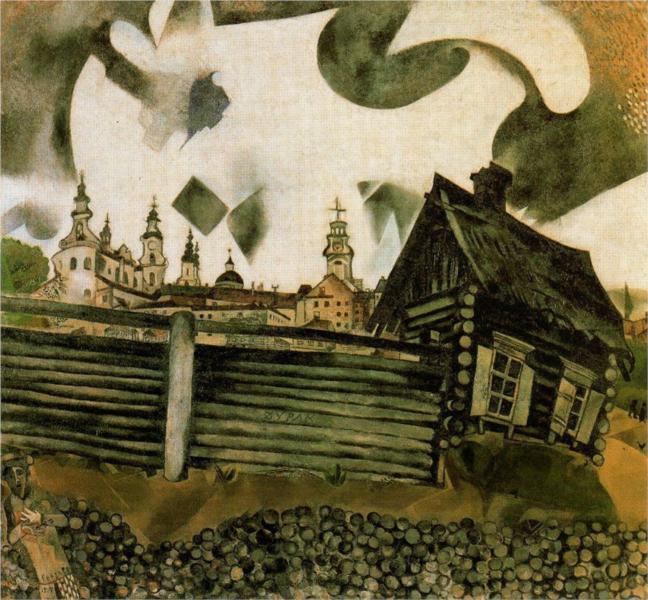 The houses are haunted
By white night-gowns.
None are green,
Or purple with green rings,
Or green with yellow rings,
Or yellow with blue rings.
None of them are strange,
With socks of lace
And beaded ceintures.
People are not going
To dream of baboons and periwinkles.
Only, here and there, an old sailor,
Drunk and asleep in his boots,
Catches Tigers
In red weather.
[Wallace Stevens, "Disillusionment of Ten O'Clock".]
Most of the themes in our Humanist religious framework emphasize freedom of the human spirit but just as a vibrant and active person must rest, so must the person who desires the good life, for herself and for others, step back from desire. That is the role and essence of modesty in our framework.
Real
True Narratives
Asceticism is not a favored Humanist lifestyle but there is value in part of its emotional component. By understanding what the experience of asceticism is like, we can better appreciate the value of tempering our desires.
Imaginary
Music: Composers, artists, and major works
Arvo Pärt is a contemporary composer whose ascetic musical style captures the essence of modesty as the emotional component of humility. Pärt's asceticism is an important prelude to and a backdrop for the contrasting works that will come later.
Other works:
Johann Caspar Fischer, 6 Suites for Harpsichord, are simple, unadorned and unassuming.
Visual Arts
Film and Stage
Fictional Narratives
Any one who had chanced to pass through the little town of Vernon at this epoch, and who had happened to walk across that fine monumental bridge, which will soon be succeeded, let us hope, by some hideous iron cable bridge, might have observed, had he dropped his eyes over the parapet, a man about fifty years of age wearing a leather cap, and trousers and a waistcoat of coarse gray cloth, to which something yellow which had been a red ribbon, was sewn, shod with wooden sabots, tanned by the sun, his face nearly black and his hair nearly white, a large scar on his forehead which ran down upon his cheek, bowed, bent, prematurely aged, who walked nearly every day, hoe and sickle in hand, in one of those compartments surrounded by walls which abut on the bridge, and border the left bank of the Seine like a chain of terraces, charming enclosures full of flowers of which one could say, were they much larger: "these are gardens," and were they a little smaller: "these are bouquets." All these enclosures abut upon the river at one end, and on a house at the other. The man in the waistcoat and the wooden shoes of whom we have just spoken, inhabited the smallest of these enclosures and the most humble of these houses about 1817. He lived there alone and solitary, silently and poorly, with a woman who was neither young nor old, neither homely nor pretty, neither a peasant nor a bourgeoise, who served him. The plot of earth which he called his garden was celebrated in the town for the beauty of the flowers which he cultivated there. These flowers were his occupation. By dint of labor, of perseverance, of attention, and of buckets of water, he had succeeded in creating after the Creator, and he had invented certain tulips and certain dahlias which seemed to have been forgotten by nature. He was ingenious; he had forestalled Soulange Bodin in the formation of little clumps of earth of heath mould, for the cultivation of rare and precious shrubs from America and China. He was in his alleys from the break of day, in summer, planting, cutting, hoeing, watering, walking amid his flowers with an air of kindness, sadness, and sweetness, sometimes standing motionless and thoughtful for hours, listening to the song of a bird in the trees, the babble of a child in a house, or with his eyes fixed on a drop of dew at the tip of a spear of grass, of which the sun made a carbuncle. His table was very plain, and he drank more milk than wine. A child could make him give way, and his servant scolded him. He was so timid that he seemed shy, he rarely went out, and he saw no one but the poor people who tapped at his pane and his curé, the Abbé Mabeuf, a good old man. Nevertheless, if the inhabitants of the town, or strangers, or any chance comers, curious to see his tulips, rang at his little cottage, he opened his door with a smile. He was the "brigand of the Loire." [Victor Hugo, Les Misérables (1862), Volume III – Marius; Book Third – The Grandfather and the Grandson, Chapter II, One of the Red Spectres of that Epoch.]
He performed a multitude of good actions, concealing his agency in them as a man conceals himself because of evil actions. He penetrated houses privately, at night; he ascended staircases furtively. A poor wretch on returning to his attic would find that his door had been opened, sometimes even forced, during his absence. The poor man made a clamor over it: some malefactor had been there! He entered, and the first thing he beheld was a piece of gold lying forgotten on some piece of furniture. The "malefactor" who had been there was Father Madeleine. [Victor Hugo, Les Misérables (1862), Volume I – Fantine; Book Fifth – The Descent Begins, Chapter III, Sums Deposited with Laffitte.]