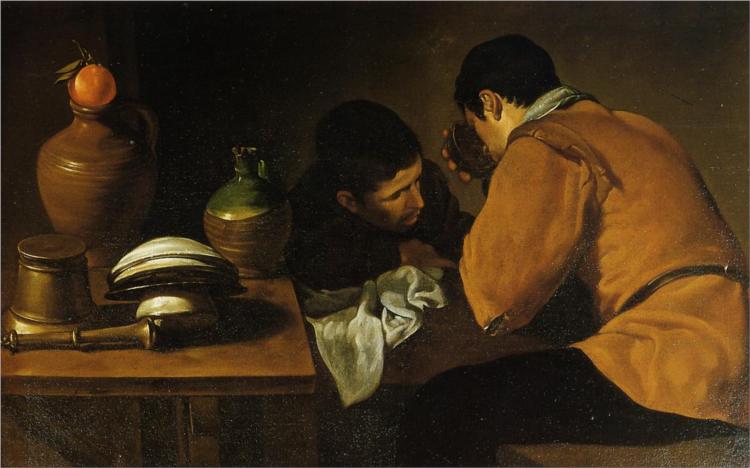 Humility — true humility — is one of the most expansive and life-enhancing of all virtues. It does not mean undervaluing yourself. It means valuing other people. It signals a certain openness to life's grandeur and the willingness to be surprised, uplifted, by goodness wherever one finds it. [Jonathan Sacks, "On Humility."]
There is nothing noble about being superior to some other man. The true nobility is in being superior to your previous self. [Hindu proverb]
Let nothing be done through strife or vainglory; but in lowliness of mind let each esteem others better than themselves. Look not every man on his own things, but every man also on the things of others. [The Bible, Philippians 2:3-4.]
I saw that we're all doing the best we can. This is how a lifetime of humility begins. [Byron Katie, Loving What Is: Four Questions That Can Change Your Life (Harmony, 2002), p. 78.]
Who is more humble? The scientist who looks at the universe with an open mind and accepts whatever the universe has to teach us, or somebody who says "Everything in this book must be considered the literal truth and never mind the fallibility of all the human beings involved in the writing of this book." [Carl Sagan, interview with Charlie Rose, 1996.]
Humility is a global and deferential virtue. It expresses a relationship between the self and others and/or the world. Thus, humility implies a respect for the views and aspirations of others, and also an awareness of our cosmic insignificance, as expressed in Carl Sagan's "The Pale Blue Dot."
"Humility is the orphaned virtue of our age." Rabbi Sacks argues that this is because our societies have been transformed from communities of friends into anonymous landscapes of strangers. The point bears watching but I am also inclined to think that success is a bitch-goddess not only in its pursuit but also in its attainment: we who have lived well are inclined to think we gained access to a vast stock of material goods, technologies and services all by ourselves. Here, too, we are guided not by what is true but by what we wish was true. Too many of us act like the baseball player who starts out on third base and thinks he hit a triple. In the United States in particular, we are plagued by the idea that successful entrepreneurs are the best among us, when in fact they are merely the ones whose strategies and abilities were best suited to success in business; their success rests on the backs of countless numbers of people who have gone before them, the social, economic and political framework that protects property and allows businesses to exist and thrive, and those who labor now to establish and maintain that framework.
In our daily lives, too, we often forget our place among others and in the scheme of things. It is in this sense, perhaps, that the loss of close communities has diminished the value we attach to humility. Anything that disorients us among others or in the universe is likely to interfere with our sense of humility. "No man is an island," wrote John Donne; living this way is the beginning of humility.
Sacks writes that humility "is what opens us to the world." This is an excellent statement of humility's place in our Human Faith model. Before we can see others, we must empty our cup of ourselves. To see the world as it is, we cannot imagine self as a colossus astride the Earth. Humility is only a first step toward an ethical and spiritual life; but it is an indispensable first step.
Humility does not mean that we cannot do great things; just the opposite, humility is a foundation for greatness. Great people have no desire to boast because they live the quiet assurance that comes from understanding who they are and where they fit in. Einstein insisted that he had only two ideas his whole life: for him, an idea was something that no one else had ever considered. Two of the wealthiest men on Earth, Bill Gates and Warren Buffett, have vowed to return most of their wealth to the society from which it came. The great artist who sees genius as a gift must guard against seeing inborn talent as a personal reward, an inclination that the idea of talent as a "gift" encourages. In every case, our challenge is to remember our relationship to others and the world, and live accordingly.
Though my intention is not to offend, honesty will not permit me to overlook the destructive role theism has played in this regard. Most of us wish that we could – or hope that we can – live forever, eternal life assured by a benevolent force. Of this desire was born the inclination to believe in a god or gods. When we believe that things are so because we wish them to be so, we close our eyes to our own limitations; we pretend to know what we do not know – we claim knowledge of God, the ineffable and unknowable. There is no humility in that, and in itself it cannot lead to a spiritual life or, if God is Truth, to a life devoted to God. To be devoted to the Gospel, we must admit the limits of our knowledge. By placing the desire to think of God as we please ahead of the desire to serve God, many have lost their way, some tragically and some in epic proportion. That is not to say that Christians, Jews, Muslims, Hindus and other theists cannot be spiritual; they can be and they are, but not because they choose to name God or attach a personal history or story to It.
So in week five on our calendar, we begin on the road anew. Suffering has stripped us bare. We have identified ourselves as living beings who seek justice and the avoidance of suffering. Now we set about to accomplish those ends. The first step in learning is to acknowledge that there are many things we do not know or cannot know; that there are many things we cannot do; and that the universe does not shape itself to conform to our desires. In this way, we can best appreciate what our framework is. This is not to suggest that this is the order in the development of knowledge beginning with early childhood; it is not. Instead, it is a framework for reconsidering what we know at this point on our calendar. This is the essence of humility in our model.
Its opposites include arrogance.
Real
True Narratives
Leonardo made a point of not expounding much on religion during his lifetime. He said that he would not endeavor 'to write or give information of those things of which the human mind is incapable and which cannot be proved by an instance of nature' . . . [Walter Isaacson, Leonardo da Vinci, (Simon & Schuster, 2017), p. 512.]
Visual representations:
Humility's opposites:
Two memoirs illustrating the arrogance of neo-cons from the Bush 43 administration:
Technical and Analytical Readings
David E. Cooper, The Measure of Things: Humanism, Humility, and Mystery (Oxford University Press, 2002).
Andrew Murray, Humility: The Beauty of Holiness (1896).
Jörg Weber and Johannes Vohlkampf, The Depth of Humility: Commentaries on the Gnostic and Buddhist Concept of Humility (South Asia Books, 1996).
Michael Casey, A Guide To Living In the Truth: Saint Benedict's Teaching on Humility (Luguori Publications, 2001).
Jonathan Sacks, "On Humility."
Immanuel Kant argued that we have no knowledge of things in themselves. To him, this was not an argument for idealism but epistemic humility.
Documentary and Educational Films
From the dark side:
Imaginary
Fictional Narratives
Novels:
Not humility:
The senator above mentioned was a clever man, who had made his own way, heedless of those things which present obstacles, and which are called conscience, sworn faith, justice, duty: he had marched straight to his goal, without once flinching in the line of his advancement and his interest. He was an old attorney, softened by success; not a bad man by any means, who rendered all the small services in his power to his sons, his sons-in-law, his relations, and even to his friends, having wisely seized upon, in life, good sides, good opportunities, good windfalls. Everything else seemed to him very stupid. He was intelligent, and just sufficiently educated to think himself a disciple of Epicurus; while he was, in reality, only a product of Pigault-Lebrun. He laughed willingly and pleasantly over infinite and eternal things, and at the "crotchets of that good old fellow the Bishop." He even sometimes laughed at him with an amiable authority in the presence of M. Myriel himself, who listened to him. [Victor Hugo, Les Misérables (1862), Volume I – Fantine; Book First – A Just Man, Chapter VIII, Philosophy after Drinking.]
Novels and stories from humility's dark side:
Poetry
If you should rise from Nowhere up to Somewhere,
From being No one up to being Someone,
Be sure to keep repeating to yourself
You owe it to an arbitrary god
Whose mercy to you rather than to others
Won't bear too critical examination.
[Robert Frost, "The Fear of God"]
Other poems:
· Roald Dahl, "The Pig"
· Percy Bysshe Shelley, "Ozymandias"
· Robert Frost, "The Aim Was Song"
· Alfred Austin, The Door of Humility (1906).
· Edgar Lee Masters, "Professor Newcomer"
· Edgar Lee Masters, "Wallace Ferguson"
· Roger McGough, "First Day at School"
Books of poems:
Visual Arts
Music: Composers, artists, and major works
Ordo Virtutum (Play of the Virtues) is a morality play written and set to music by the twelfth-century Benedictine nun and composer Hildegard von Bingen. In it, the soul is "is eager to skip life and go straight to heaven" but then learns virtue and accepts earthly life. The most obvious aspect of humility in the story is patience but because the context of the story is life itself, we can see all aspects of humility: modesty in not reaching beyond what is possible, taming belief to conform to reality, forbearing from rash action, gaining the attitude of equanimity and becoming more mindful. For that reason and because of the deferential tone in Hildegard's early music, I place the work under the global category of humility. Linked are performances by Seraphic Fire and Sequentia, and conducted by Marti, unknown and McKee.
Other works:
Erlend Apneseth is a Norwegian hardingfele (fiddle) player, whose sparse sounds evoke the Norwegian countryside in winter. His trio consists of "fiddle player Erlend Apneseth with guitarist Stephan Meidell and drummer Øyvind Hegg-Lunde". His and their albums include:
Albums:
Music: songs and other short pieces
Film and Stage