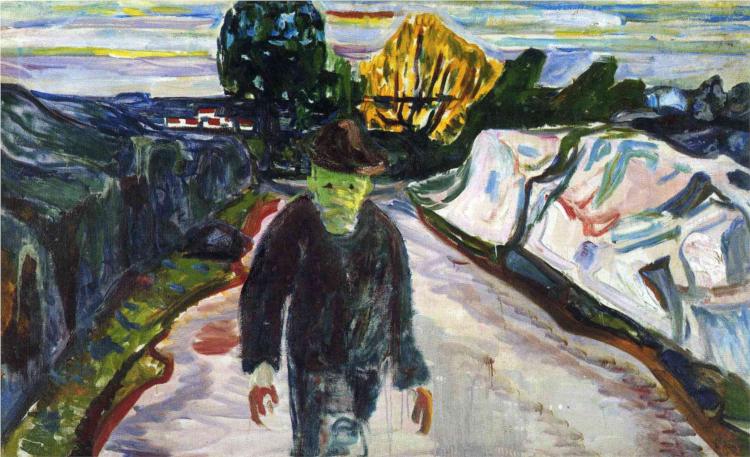 When they were in the field Cain attacked his brother Abel and killed him. [The Bible, Genesis 4:8.]
We will be greatly misled if we feel that the problem will work itself out. Structures of evil do not crumble by passive waiting. If history teaches anything, it is that evil is recalcitrant and determined, and never voluntarily relinquishes its hold short of an almost fanatical resistance. Evil must be attacked by a counteracting persistence, by the day-to-day assault of the battering rams of justice. [Martin Luther King, Jr., Where Do We Go From Here: Chaos or Community (1967), Chapter IV, "The Dilemma of Negro Americans".]
Justice is honoring the worth and dignity of all persons; evil is denigrating, denying, diminishing or destroying it.
This is best seen from the core of Being outward. Intention is the essence of evil, whereas an action that is merely harmful is not generally seen that way; however, repeated harmful acts are less likely to be overlooked than a single honest mistake.
Real
True Narratives
Why stands she near the auction stand?
That girl so young and fair;
What brings her to this dismal place?
Why stands she weeping there?
Why does she raise that bitter cry?
Why hangs her head with shame,
As now the auctioneer's rough voice
So rudely calls her name!
But see! she grasps a manly hand,
And in a voice so low,
As scarcely to be heard, she says,
"My brother, must I go?"
A moment's pause: then, midst a wail
Of agonizing woe,
His answer falls upon the ear.--
"Yes, sister, you must go!"
No longer can my arm defend,
No longer can I save
My sister from the horrid fate
That waits her as a SLAVE!
Blush, Christian, blush! for e'en the dark
Untutored heathen see
Thy inconsistency, and lo!
They scorn thy God, and thee!
[Running a Thousand Miles for Freedom; or, the Escape of William and Ellen Craft from Slavery (1860).]
Evil on a grand scale:
Evil on a smaller scale:
Slavery:
Hesitate as we might to avoid singling out an individual to personify evil, Joseph Stalin's cold brutality makes his biographies fit reading on this dark subject.
Stephen Kotkin, Stalin: Paradoxes of Power, 1878-1928 (Penguin Press, 2014).
Stephen Kotkin, Stalin: Waiting for Hitler, 1929-1941 (Penguin Press, 2017). ". . . Kotkin teases out his subject's contradictions, revealing Stalin as both ideologue and opportunist, man of iron will and creature of the Soviet system, creep who apparently drove his wife to suicide and leader who inspired his people."
Stephen Kotkin, (a third volume on Stalin is to come).
Other narratives of evil:
Documentary and Educational Films
Imaginary
Fictional Narratives
Who were these Thénardiers? Let us say a word or two of them now. We will complete the sketch later on. These beings belonged to that bastard class composed of coarse people who have been successful, and of intelligent people who have descended in the scale, which is between the class called "middle" and the class denominated as "inferior," and which combines some of the defects of the second with nearly all the vices of the first, without possessing the generous impulse of the workingman nor the honest order of the bourgeois. They were of those dwarfed natures which, if a dull fire chances to warm them up, easily become monstrous. There was in the woman a substratum of the brute, and in the man the material for a blackguard. Both were susceptible, in the highest degree, of the sort of hideous progress which is accomplished in the direction of evil. There exist crab-like souls which are continually retreating towards the darkness, retrograding in life rather than advancing, employing experience to augment their deformity, growing incessantly worse, and becoming more and more impregnated with an ever-augmenting blackness. This man and woman possessed such souls. Thénardier, in particular, was troublesome for a physiognomist. One can only look at some men to distrust them; for one feels that they are dark in both directions. They are uneasy in the rear and threatening in front. There is something of the unknown about them. One can no more answer for what they have done than for what they will do. The shadow which they bear in their glance denounces them. From merely hearing them utter a word or seeing them make a gesture, one obtains a glimpse of sombre secrets in their past and of sombre mysteries in their future. This Thénardier, if he himself was to be believed, had been a soldier--a sergeant, he said. He had probably been through the campaign of 1815, and had even conducted himself with tolerable valor, it would seem. We shall see later on how much truth there was in this. The sign of his hostelry was in allusion to one of his feats of arms. He had painted it himself; for he knew how to do a little of everything, and badly. [Victor Hugo, Les Misérables (1862), Volume I – Fantine; Book Fourth – To Confide Is Sometimes to Deliver into a Person's Power, Chapter II, The First Sketch of Two Unprepossessing Figures.]
Novels:
In Sophie's Choice, William Styron tells of a woman forced to choose which of her children will be executed in a Nazi concentration camp.
Barry Unsworth, Sacred Hunger (Nan A. Talese, 1992): "a vision of hell on earth (with) its account of the unimaginable cruelties of the slave trade . . ."
Steve Sem-Sandberg,

The Chosen Ones

:

A Novel

(Farrar, Straus & Giroux, 2016) "

tells the story of a hospital in Nazi Vienna where 800 children were murdered.

"
Pete Ayrton, ed.,

No Man's Land

:

Fiction From a World at War: 1914-1918

(Pegasus Books, 2014): "

The book's subtitle is a bit misleading, since the 47 authors sampled here include memoirists and journalists, but Mr. Ayrton has captured the global sweep of the conflict by not awarding undue emphasis to the Western Front already so familiar to us from films and books.

"
Andrew Krivak,

The Signal Flame

:

A Novel

(Scribner, 2017): "

There is no answer to the question of war, how much it can demand or who should suffer. Krivak, in this moving and eloquent book, reminds us that we are powerless over this presence in our lives. It will return, generation after generation, to our families.

"
Paul Yoon, Run Me to Earth: A Novel (Simon & Schuster, 2020): "Three children, Noi, Prany and Alisak, contemplate their future in a half-destroyed house that has been converted into a makeshift field hospital in war-torn Laos at the end of the 1960s.
Riku Onda, The Aosawa Murders: A Novel (Bitter Lemon, 2020): "At a birthday party on a sweltering day in the 1970s, 17 people consume poisoned sake and soft drinks that were delivered as a gift to the wealthy Aosawa family. Only the blind daughter of the household, Hisako Aosawa, doesn't partake. Instead, she sits and listens as everyone around her moans, vomits and dies in agony. Who instigated this massacre?"
Ben Hopkins, Cathedral: A Novel (Europa, 2021): "There are plenty of villains in this parade of skirmishes and subterfuges, and few who might pass as heroes."
On the horrors of war in the most turbulent parts of contemporary Africa, and its victims:
Visual Arts
Film and Stage
Music: Composers, artists, and major works
Poetry
Now I tell what I knew in Texas in my early youth,
(I tell not the fall of Alamo,
Not one escaped to tell the fall of Alamo,
The hundred and fifty are dumb yet at Alamo,)
'Tis the tale of the murder in cold blood of four hundred and twelve young men.
Retreating they had form'd in a hollow square with their baggage for breastworks,
Nine hundred lives out of the surrounding enemies, nine times their number, was the price they took in advance,
Their colonel was wounded and their ammunition gone,
They treated for an honorable capitulation, receiv'd writing and seal, gave up their arms and march'd back prisoners of war.
They were the glory of the race of rangers,
Matchless with horse, rifle, song, supper, courtship,
Large, turbulent, generous, handsome, proud, and affectionate,
Bearded, sunburnt, drest in the free costume of hunters,
Not a single one over thirty years of age.
The second First-day morning they were brought out in squads and massacred, it was beautiful early summer,
The work commenced about five o'clock and was over by eight.
None obey'd the command to kneel,
Some made a mad and helpless rush, some stood stark and straight,
A few fell at once, shot in the temple or heart, the living and dead lay together,
The maim'd and mangled dug in the dirt, the new-comers saw them there,
Some half-kill'd attempted to crawl away,
These were despatch'd with bayonets or batter'd with the blunts of muskets,
A youth not seventeen years old seiz'd his assassin till two more came to release him,
The three were all torn and cover'd with the boy's blood.
At eleven o'clock began the burning of the bodies; That is the tale of the murder of the four hundred and twelve young men.
[Walt Whitman, Leaves of Grass (1891-92), Book III: Song of Myself, 34.]
Other poems:
· John McCrae, "In Flanders Field"
· Wilfred Owen, "Dulce et Decorum Est"
· Wilfred Owen, "Anthem For Doomed Youth"
· Robert Frost, "Not to Keep"
· Edgar Lee Masters, "Harry Wilmans"
Music: songs and other short pieces