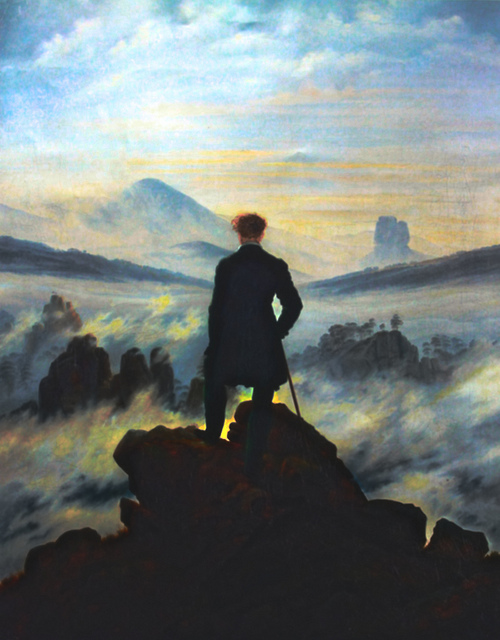 The psychic task which a person can and must set for himself, is not to feel secure, but to be able to tolerate insecurity, without panic and undue fear. [Erich Fromm]
Ignorance more frequently begets confidence than does knowledge: it is those who know little, not those who know much, who so positively assert that this or that problem will never be solved by science. [Charles Darwin, The Descent of Man (1871), Introduction.]
Education is a progressive discovery of our own ignorance. [Will Durant]
Life is "doubt in action" . . . [Stephen Burn, reviewing Joseph McElroy's Night Soul and Other Stories.]
The wise man is cautious and shuns evil; the fool is reckless and sure of himself. [The Bible, Proverbs 14:16]
When you know a thing, to recognize that you know it, and when you do not know a thing, to recognize that you do not know it. That is knowledge. [Confucius, The Analects, 2:17.]
Ignorance is like a delicate exotic fruit: Touch it, and the bloom is gone. [Oscar Wilde, "The Importance of Being Earnest," Act 1.]
I do not know what I appear to the world; but to myself I seem to have been only a boy playing on the seashore, and diverting myself in now and then finding a smoother pebble or a prettier shell than ordinary, whilst the great ocean of truth lay all undiscovered before me. [Isaac Newton]
We religious Humanists and scientific naturalists celebrate something most people shun; skepticism and doubt, the ability to entertain and even invite uncertainty. We recognize that by cultivating and practicing these intellectual qualities, we equip ourselves to learn and grow. They are among the hallmarks, and tools, of intellectual humility.
As with the muscles of our bodies, these virtues probably never develop unless we exercise them. Still, they are not characterizing features of our lives but reminders of our human limitations and our unwavering commitment to learn, not merely to insist that we know.
Humans are driven toward food and sex, but the way many people behave, one might conclude the yearning for a sense of certainty was also a fundamental human drive. Perhaps it is. In our evolutionary past, when one bit of hesitation could make the difference between surviving the attack of a predator and being eaten alive, the inclination to "jump to conclusions" may have conveyed an evolutionary advantage. But we no longer live in that environment today but in an environment and social milieu that is friendlier to thoughtful consideration. Moreover, our contribution to the social framework depends on this latter attribute. We owe many of our greatest advances to people who doubted, questioned and eventually overturned what was commonly assumed or held to be inalterably true.
The desire to know is at the root of nearly every human advance in science, literature, technology, the arts, sports and perhaps every important human endeavor. Without it, we might well have remained cave-dwellers lacking even the knowledge to build a fire to cook our food.
Yet the human being wants not merely to know, but to be certain – to feel that he knows. That craving leads not only to knowledge, but also to its opposite, an entrenched ignorance that glorifies and perpetuates itself. Like Lady Bracknell's model of ignorance who never touches the prickly spines on the tree of knowledge, the one who knows all has settled in to a life of self-satisfied if not entirely blissful ignorance. "Inquiring minds want to know" was the slogan of a popular but tawdry tabloid that spoon-fed tawdry misinformation to the public under the guise of knowledge and inquiry.
Few things, if anything at all, will aggravate true believers more than an invitation to doubt: such people see an inconvenient fact or an inescapable conclusion of logic not as an opportunity to grow, but as a threat to a "truth" they have already settled on. A mature and responsible mind comes to recognize avoidance of facts and reason as a sign that its views merit reconsideration and change, but the mind that is absolutely convinced of its own infallibility treats facts, logic and reason as tools to be used to support presently held opinions and ignored for every other purpose.
Doubt and skepticism are key components of a genuine intellectual humility. Without them we cannot learn, or grow intellectually.
Though one cannot spend a healthy lifetime merely doubting, the wise never fear to doubt. They know that the truth will not only survive their doubt, but be strengthened in its crucible, and that new truths will emerge from it.
Science recognizes that all its truths are provisional, subject to change as additional information comes to light. Yet in the field of religion, too, doubt is an important and often overlooked tool, for although the Truth of our experience is our own personal Truth revealed from within, what we make of our Truth is a function of our growth and our ability to interpret the meaning of our experience in the context of all our relationships.
In our model, then, we see doubt and skepticism not as threats to our sense of security, and certainly not as characterizing attitudes, but as invitations to become more and better than we are. We seek to use intellectual humility as a reminder that gaining knowledge requires us to conform our understanding to What Is, instead of expecting What Is to conform to our understanding. In the language of traditional religion, this is nothing less than the distinction between obeying God and declaring oneself to be God. How odd it is, and how tragic, that so much of our culture takes the latter path while claiming to worship in the former.
Today we celebrate the virtue of intellectual humility: the affirmative power of doubt and skepticism to bring knowledge where ignorance now dwells or once dwelt. We bow to the reality around and within us, and resolve to approach it humbly and respectfully, recognizing our fallibility and the limits of our knowledge even as we seek to know more.
Real
True Narratives
Having been told that the soul was without form, she was much perplexed at David's words, "He leadeth my soul." "Has it feet? Can it walk? Is it blind?" she asked; for in her mind the idea of being led was associated with blindness.
Of all the subjects which perplex and trouble Helen, none distresses her so much as the knowledge of the existence of evil, and of the suffering which results from it. For a long time it was possible to keep this knowledge from her; and it will always be comparatively easy to prevent her from coming in personal contact with vice and wickedness. The fact that sin exists, and that great misery results from it, dawned gradually upon her mind as she understood more and more clearly the lives and experiences of those around her. The necessity of laws and penalties had to be explained to her. She found it very hard to reconcile the presence of evil in the world with the idea of God which had been presented to her mind.
One day she asked. "Does God take care of us all the time?" She was answered in the affirmative. "Then why did He let little sister fall this morning, and hurt her head so badly?" Another time she was asking about the power and goodness of God. She had been told of a terrible storm at sea, in which several lives were lost, and she asked, "Why did not God save the people if He can do all things?" [Annie Sullivan, Letters, March 22, 1888.]
True narratives on skepticism and intellectual humility:
Jennifer Michael Hecht, Doubt: A History: The Great Doubters and Their Legacy of Innovation from Socrates and Jesus to Thomas Jefferson and Emily Dickinson (Harper One, 2003).
Keith DeRose and Ted A Warfield, Eds., Skepticism: A Contemporary Reader (Oxford University Press, 1999).
Richard H. Popkin, The History of Skepticism: From Savonarola to Bayle (Oxford University Press, 2003).
Richard H. Popkin, Skepticism: An Anthology (Prometheus Books, 2007).
John Greco, Ed., Oxford Handbookof Skepticism (Oxford University Press, 2008).
Charles Landesman, Skepticism: The Central Issues (Wiley-Blackwell, 2002).
J.L. Schellenberg, The Wisdom to Doubt: A Justification for Religious Scepticism (Cornell University Press, 2007).
Steven Gimbel, Einstein's Jewish Science: Physics at the Intersection of Politics and Religion (The Johns Hopkins University Press, 2012): how Einstein's complex physics threatened the Nazis, who insisted on a black-and-white worldview of everything. See also Hans Reichenbach, (Steven Gimbel and Anke Walz, eds.) Defending Einstein: Hans Reichenbach's Writings on Space, Time and Motion (Cambridge University Press, 2006).
Megan Stielstra, The Wrong Way to Save Your Life: Essays (Harper Perennial, 2017): ". . . a life-enriching collection of essays by a conscientious writer and teacher who knows that asking the right questions is more important than having all the answers

"

.
Zadie Smith, Changing My Mind: Occasional Essays (Penguin Press, 2009): ". . . ambivalence, doubt and confusion are essential to forming dynamic new hybrid selves. . .

"

Adam Grant, Think Again: The Power of Knowing What You Don't Know (Viking, 2021): in arguing for "confident humility", Grant argues that "we can simultaneously be confident in our ability to uncover the truth while acknowledging we may be wrong at present. We must convey our uncertainties and information gaps to others, he argues.

"

Alec Wilkinson, A Divine Language: Learning, Algebra, Geometry and Calculus at the Edge of Old Age (Farrar, Straus & Giroux, 2022): ". . . what Wilkinson achieves by the end isn't so much a command over mathematics as some humility toward it — a willingness to accept it, despite his frustrations, in a kind of détente. . . . The world seems bigger to him than it once did. He can sense new melodies, even if he doesn't know all the words."
F.A. Hayek was an influential skeptic of government, believing that "no government could know enough to plan for society." He failed to account for or be equally skeptical about the rising influence of corporations and the global economy, and their power to influence and plan economies without the check of public accountability. University of Chicago Press is publishing The Collected Works of F.A. Hayek:
Imaginary
Poetry
It seems inconsistent with all human reason,
That God in his infinite goodness and love___
His wisdom, his power and mercy unending,
Would quietly sit in his mansion above,
While over the earth dire misfortune is pending,
Dissension and discord are rife thru the land,
Injustice prevails, and the innocent suffer,
And fairest and loveliest, fall at Death's hand.
Could he calmly sit, high on his throne in the sky
While pain and distress to his children drew nigh?
["A Skeptic's Thought," Colfax Burgoyne Harman]
If you should rise from Nowhere up to Somewhere,
From being No one to being Someone,
Be sure to keep repeating to yourself
You owe it to an arbitrary god
Whose mercy to you rather than to others
Won=t bear too critical examination.
Stay unassuming. If for lack of license
To wear the uniform of who you are,
You should be tempted to make up for it
In a subordinating look or tone,
Beware of coming too much to the surface
And using for apparel what was meant
To be the curtain of the inmost soul.
[Robert Frost, "The Fear of God".]
Visual Arts
Awareness of place: a perspective on humility and another
Music: Composers, artists, and major works
Charles Ives, The Unanswered Question
As Gustav Mahler approached death, he wrote an adagio movement for a tenth symphony. It was the only part of the symphony he completed. Somewhat like Ives' shorter work, it begins (0:46) as with an existential question. Of course, Mahler could not resist paying homage to the love of his life, his wife Alma (2:05) but minor chords permeate the love medody (3:07). The love theme returns(5:04), only to be engulfed again by existential doubt as the two motifs struggle for dominance. In contrast with Mahler's Ninth Symphony, which evokes many of the same themes, Mahler's sadness so engulfs him that he seems disoriented (7:46), an idea reinforced by a mini-scherzo (9:45). Existential angst continues, interspersed with occasional notes of playfulness (1:24) but these too are tinged with sadness and doubt (2:12), as though Mahler was asking "why must I die?" A hint of serenity gives way to a burst of noisy energy (beginning at 8:00) as the hero continues to struggle internally. Alma returns to soothe him (9:48) but soon the minor key of doubt creeps back (0:46). Never one for a brief good-bye, Mahler continues in this vein throughout the remainder of this tragically incomplete work. Here are additional performances conducted by Boulez, Nott and Abbado.
Flagello:
Joly Braga Santos:
Performances and albums by AMM:
"The Aarhus Sequences"
"The Great Hall"
"Contextual"
Other works:
Albums
Fictional Narratives
Among all these glowing hearts and thoroughly convinced minds, there was one sceptic. How came he there? By juxtaposition. This sceptic's name was Grantaire, and he was in the habit of signing himself with this rebus: R. Grantaire was a man who took good care not to believe in anything. Moreover, he was one of the students who had learned the most during their course at Paris; he knew that the best coffee was to be had at the Café Lemblin, and the best billiards at the Café Voltaire, that good cakes and lasses were to be found at the Ermitage, on the Boulevard du Maine, spatchcocked chickens at Mother Sauget's, excellent matelotes at the Barrière de la Cunette, and a certain thin white wine at the Barrière du Compat. He knew the best place for everything; in addition, boxing and foot-fencing and some dances; and he was a thorough single-stick player. He was a tremendous drinker to boot. He was inordinately homely: the prettiest boot-stitcher of that day, Irma Boissy, enraged with his homeliness, pronounced sentence on him as follows: "Grantaire is impossible"; but Grantaire's fatuity was not to be disconcerted. He stared tenderly and fixedly at all women, with the air of saying to them all: "If I only chose!" and of trying to make his comrades believe that he was in general demand. All those words: rights of the people, rights of man, the social contract, the French Revolution, the Republic, democracy, humanity, civilization, religion, progress, came very near to signifying nothing whatever to Grantaire. He smiled at them. Scepticism, that caries of the intelligence, had not left him a single whole idea. He lived with irony. This was his axiom: "There is but one certainty, my full glass." He sneered at all devotion in all parties, the father as well as the brother, Robespierre junior as well as Loizerolles. "They are greatly in advance to be dead," he exclaimed. He said of the crucifix: "There is a gibbet which has been a success." A rover, a gambler, a libertine, often drunk, he displeased these young dreamers by humming incessantly: "J'aimons les filles, et j'aimons le bon vin." Air: Vive Henri IV. [Victor Hugo, Les Misérables (1862), Volume III – Marius; Book Fourth – The Friends of the A B C, Chapter I, A Group Which Barely Missed Becoming Historic.]
Novels and stories:
Joseph McElroy, Night Soul and Other Stories (Dalkey Archive Press, 2011).
Katie Kitamura,

A Separation

:

A Novel

(Riverhead Books, 2018): " . . . one detects an overriding fatalism about the possibility of human connection, a sense that

'wife

and

husband

and

marriage

are only words that conceal much more unstable realities, more turbulent than perhaps can be contained in a handful of syllables, or any amount of writing.' It is this radical disbelief — a disbelief, it appears, even in the power of art — that makes Kitamura's accomplished novel such a coolly unsettling work."
John Darnielle, Devil House: A Novel (MCD / Farrar, Straus & Giroux, 2022): "I had no idea where it was going, in the best possible sense."
Film and Stage