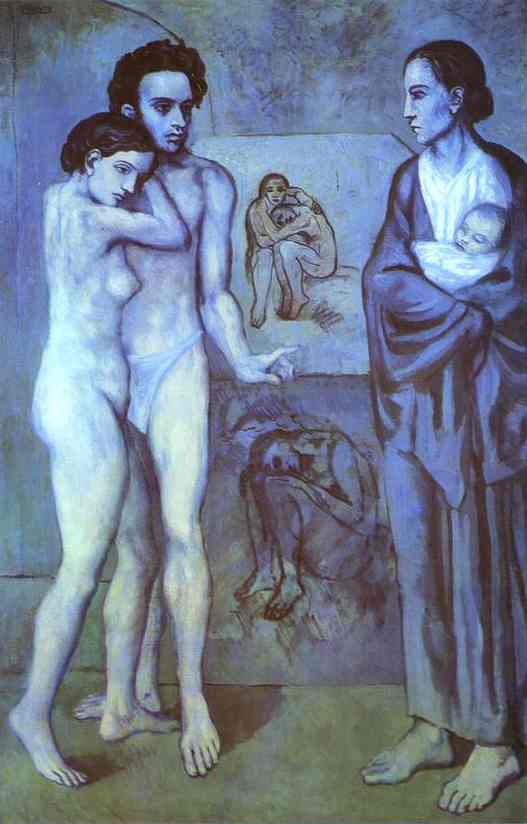 Though the Earth gives us life and the body is the sine qua non of every experience we will ever have, still people are tempted to view material things as constraints. The biblical story of the fall of man, from an imaginary world into the real world in which toil and suffering challenge our quest to live joyfully, is brilliantly expressed in Picasso's La Vie.
We Humanists try not to take that view but we understand why the mind seeks to free itself from what it sees as the shackles of physical restriction. Having the ability to imagine ourselves flying, we do not always accept the reality of constraint. But if we are to approach life objectively and life honestly and responsibly, then we must acknowledge that limitation, suffering and the boundaries of the physical world are natural and often inescapable aspects of the human condition.
Real
True Narratives
But about this time I had an experience which taught me that nature is not always kind. One day my teacher and I were returning from a long ramble. The morning had been fine, but it was growing warm and sultry when at last we turned our faces homeward. Two or three times we stopped to rest under a tree by the wayside. Our last halt was under a wild cherry tree a short distance from the house. The shade was grateful, and the tree was so easy to climb that with my teacher's assistance I was able to scramble to a seat in the branches. It was so cool up in the tree that Miss Sullivan proposed that we have our luncheon there. I promised to keep still while she went to the house to fetch it. Suddenly a change passed over the tree. All the sun's warmth left the air. I knew the sky was black, because all the heat, which meant light to me, had died out of the atmosphere. A strange odour came up from the earth. I knew it, it was the odour that always precedes a thunderstorm, and a nameless fear clutched at my heart. I felt absolutely alone, cut off from my friends and the firm earth. The immense, the unknown, enfolded me. I remained still and expectant; a chilling terror crept over me. I longed for my teacher's return; but above all things I wanted to get down from that tree. There was a moment of sinister silence, then a multitudinous stirring of the leaves. A shiver ran through the tree, and the wind sent forth a blast that would have knocked me off had I not clung to the branch with might and main. The tree swayed and strained. The small twigs snapped and fell about me in showers. A wild impulse to jump seized me, but terror held me fast. I crouched down in the fork of the tree. The branches lashed about me. I felt the intermittent jarring that came now and then, as if something heavy had fallen and the shock had traveled up till it reached the limb I sat on. It worked my suspense up to the highest point, and just as I was thinking the tree and I should fall together, my teacher seized my hand and helped me down. I clung to her, trembling with joy to feel the earth under my feet once more. I had learned a new lesson--that nature "wages open war against her children, and under softest touch hides treacherous claws." [Helen Keller, The Story of My Life (1904), Chapter V.]
Pivotal events often shape the world, as in these narratives:
Stephen R. Platt, Autumn in the Heavenly Kingdom: China, the West, and the Epic Story of the Taiping Civil War (Alfred A. Knopf, 2012): "Perhaps instability is ingrained in China's political culture, but a century and a half ago there seemed to be a moment when the Chinese might have changed that pattern. As Platt notes, the Taiping movement came close to overwhelming traditional ways and bringing China into the modern world."
Charlie Savage, Power Wars: The Relentless Rise of Presidential Authority and Secrecy (Little, Brown & Company, 2015): " . . . Savage provides a comprehensive, authoritative history of the legal side of national security policy making during the Obama years."
Niall Ferguson, Doom: The Politics of Catastrophe (Penguin Press, 2021): examining "Disasters of the Past and Disasters Still To Come"
Imaginary
Visual Arts
Music: Composers, artists, and major works
Gustav Mahler, Das Lied von der Erde (The Song of the Earth) (1909), is a one-of-its-kind masterpiece, perhaps a six-song cycle, perhaps a symphony. It reflects Mahler's inner core at the time of its composition, and speaks for us all. "Death was no stranger to Mahler. In childhood it visited his home and took away brothers and sisters. In adult life he faced it down by pinning it all over his creative work in the form of funeral marches, settings of songs about more children dying, of drummer boys going to battlefields, of soldiers facing execution. Death was personal. It drank in the taverns, it stared back in the reflections of mountain streams, it glowered from the trees in the forests. Nearer the end of his own short life, however, death lost its sting and the composition of "Das Lied Von der Erde" ("The Song of The Earth") could be looked on as the drawing of that sting." "A chronicle of the weariness of body and soul, an embracing of death, then, finally, an exquisitely lyrical outpouring of faith in life's renewal in a huge C-major coda, concluding with the previously-quoted passage, fading into the distance... 'Everywhere, forever... forever and ever....'" Top recorded performances are by Svanhom, Ferrier and Walter in 1948; Ferrier, Patzak and Walter in 1952; Merriman, Haefliger and Beinum in 1956; Ludwig, Wunderlich and Klemperer in 1964-66; King, Fischer-Dieskau and Bernstein in 1966; Baker, Kmentt and Kubelik in 1970; Hodgson, Mitchinson and Horenstein in 1972; Hodgson, Mitchinson and Gibson in 1974; Baltsa, Winkler and Karajan in 1978; Finnilä, Schreier and Sanderling in 1983; and Smith, Connolly and Jurowski in 2018.
Roberto Gerhard's music covers several genres within the classical idiom, broadly defined; in each, he portrays a world fraught with peril:
Other works:
Humans and other animals stay alive by killing and eating living things. Such are the world's demands. An opera by Tobias Picker, Fantastic Mr. Fox (1998) tells this tale with some humor. "A modern fable, Fantastic Mr. Fox is a story about good vs. evil, animal vs. human, and nature vs. technology. With the help of the other creatures of the forest, Mr. Fox must outwit his enemies to keep his family safe. Mr. Fox finds that he may have stolen one hen too many from the henhouse, as the meanest farmers anywhere — Boggis, Bunce, and Bean (one fat, one short, one lean) — conspire to rid their lands of the Fox family once and for all. The Foxes are able to evade capture with the help of some woodland friends, leaving the farmers laying in wait while the animals help themselves to the fruit of the farmers' lands."

Zemlinsky styled his

Lyrische Symphonie

(

Lyric Symphony

) for soprano, baritone and orchestra, Op. 18 (1923), after Mahler's Das Lied von der Erde.

Glazunov,

From the Middle Ages

, Suite in E Major for orchestra,

Op. 79

(1902): a symphonic poem following the joys and sorrows of two young lovers living in a difficult time and place

Furtwängler,

Symphony No. 1

in B Minor (1941): In the notes to

this album

, Sebastian Krahner writes that this symphony reminds him of Michelangelo's sculpture "Four Slaves." "The struggle of the bodies laboring to free themselves from the stone seems to condinue before the eyes of the beholder. Man as part of and in conflict with the world is here both stony reality and living vision."

Paul Moravec, The Blizzard Voices, "chronicles a snowstorm that suddenly struck across the upper Midwest in 1888 and killed hundreds, including a large number of children returning home from school. It is a secular oratorio . . ."

Enescu,

Vox maris

in G major, symphonic poem for tenor, three-part choir and orchestra, Op. 31 (1954): the sea claims a victim, then sings of its catch.

Alfvén,

Symphony No. 2

in D Major,

Op. 11

(1898): "My original intention was that the entire symphony should well forth in a flood of light and harmony. But Fatewished otherwise. Already after the first movement the sun disappears among the clouds and twilight sets in; thereupon follows a stormy night during which . . . I had to fight a battle for my life, in order not to go under the course of the inner conflicts which were at that time close to destroying me completely." [Hugo Alfvén]

Dove,

The Flight

(1988): In this contemporary opera, the travails of airline passengers serve as metaphors for life's travails.

Franck,

Le Chasseur Maudit

(

The Accursed Huntsman

), M44 (1882)

Flagello:

Symphony No. 1

(1968)

Nordheim, Colorazione, for Hammond organ x-66, percussion, delay, ring modulator & filters (1968, rev. 1982)
Nordheim, Magma, for orchestra (1988)

Zimmermann,

Photoptosis

, Prélude für großes Orchester (

Prelude for large Orchestra

) (1968)

Langaard, Symphony No. 15, "Søstormen" (The Sea Storm), BVN 375 (1937/1945)
Frith, "Stick Figures"
Feigin, "Surging Seas"
Chinese composer Xiaoyang Ye has composed his own "Song of the Earth", using the original Chinese texts, on which Mahler had relied.
Albums:
Muhal Richard Abrams, "

Familytalk

"

KAZE & Ikue Mori, "Sand Storm"
Andy Fusco, "Vortex"
Lina Nyberg, "Terrestrial"
Ra Kalam Bob Moses, "The Skies of Copenhagen"
Dedekind Cut, "Tahoe": "Even at its most beautiful, as with the elegant 'Virtues,' an aural mass of pink and purple clouds move over the expanse of the sky." [Robert Ham, Downbeat mazazine, June 2018 issue, p. 72.]
Matthew Shipp, Mark Helias & Gordon Grdina, "Skin and Bones"
David Cooper and Steven Bradshow, "Sunrise" – a dreary depiction of an event that supports life itself
Film and Stage
Fictional Narratives
If there is anything terrible, if there exists a reality which surpasses dreams, it is this: to live, to see the sun; to be in full possession of virile force; to possess health and joy; to laugh valiantly; to rush towards a glory which one sees dazzling in front of one; to feel in one's breast lungs which breathe, a heart which beats, a will which reasons; to speak, think, hope, love; to have a mother, to have a wife, to have children; to have the light--and all at once, in the space of a shout, in less than a minute, to sink into an abyss; to fall, to roll, to crush, to be crushed; to see ears of wheat, flowers, leaves, branches; not to be able to catch hold of anything; to feel one's sword useless, men beneath one, horses on top of one; to struggle in vain, since one's bones have been broken by some kick in the darkness; to feel a heel which makes one's eyes start from their sockets; to bite horses' shoes in one's rage; to stifle, to yell, to writhe; to be beneath, and to say to one's self, "But just a little while ago I was a living man!" [Victor Hugo, Les Misérables (1862), Volume II – Cosette; Book First – Waterloo, Chapter XIX, The Battle-Field at Night.]
Fantine was one of those beings who blossom, so to speak, from the dregs of the people. Though she had emerged from the most unfathomable depths of social shadow, she bore on her brow the sign of the anonymous and the unknown. She was born at M. sur M. Of what parents? Who can say? She had never known father or mother. She was called Fantine. Why Fantine? She had never borne any other name. At the epoch of her birth the Directory still existed. She had no family name; she had no family; no baptismal name; the Church no longer existed. She bore the name which pleased the first random passer-by, who had encountered her, when a very small child, running bare-legged in the street. She received the name as she received the water from the clouds upon her brow when it rained. She was called little Fantine. No one knew more than that. This human creature had entered life in just this way. At the age of ten, Fantine quitted the town and went to service with some farmers in the neighborhood. At fifteen she came to Paris "to seek her fortune." Fantine was beautiful, and remained pure as long as she could. She was a lovely blonde, with fine teeth. She had gold and pearls for her dowry; but her gold was on her head, and her pearls were in her mouth. She worked for her living; then, still for the sake of her living,--for the heart, also, has its hunger,--she loved. [Victor Hugo, Les Misérables (1862), Volume I – Fantine; Book Third – In the Year 1817, Chapter II, "A Double Quartette".]
Novels:
Poetry
One ship drives east and another drives west / With the self-same winds that blow; / 'Tis the set of the sails / And not the gales / That tells them the way to go.
Like the winds of the sea are the winds of fate / As we voyage along through life; / 'Tis the set of the soul / That decides its goal / And not the calm or the strife.
[Ella Wheeler Wilcox, "The Winds of Fate"]
In cabin'd ships at sea, / The boundless blue on every side expanding, / With whistling winds and music of the waves, the large imperious waves, / Or some lone bark buoy'd on the dense marine, / Where joyous full of faith, spreading white sails, / She cleaves the ether mid the sparkle and the foam of day, or under many a star at night, / By sailors young and old haply will I, a reminiscence of the land, be read, / In full rapport at last.
Here are our thoughts, voyagers' thoughts, / Here not the land, firm land, alone appears, may then by them be said, / The sky o'erarches here, we feel the undulating deck beneath our feet, / We feel the long pulsation, ebb and flow of endless motion, / The tones of unseen mystery, the vague and vast suggestions of the briny world, the liquid-flowing syllables, / The perfume, the faint creaking of the cordage, the melancholy rhythm, / The boundless vista and the horizon far and dim are all here, / And this is ocean's poem.
Then falter not O book, fulfil your destiny, / You not a reminiscence of the land alone, / You too as a lone bark cleaving the ether, purpos'd I know not whither, yet ever full of faith, / Consort to every ship that sails, sail you! / Bear forth to them folded my love, (dear mariners, for you I fold it here in every leaf;) / Speed on my book! spread your white sails my little bark athwart the imperious waves, / Chant on, sail on, bear o'er the boundless blue from me to every sea, / This song for mariners and all their ships.
[Walt Whitman, Leaves of Grass (1891-92), Book I: Inscriptions, "In Cabin'd Ships at Sea".]
Other poems:
Music: songs and other short pieces