Once we have embraced complexity, we can see it is a rich tapestry. This non-threatening way of looking at change and its components and predicates is in keeping with spiritual ideals.
Imaginary
Fictional Narratives
It is certain, that if Ravaillac had not assassinated Henri IV., there would have been no documents in the trial of Ravaillac deposited in the clerk's office of the Palais de Justice, no accomplices interested in causing the said documents to disappear; hence, no incendiaries obliged, for lack of better means, to burn the clerk's office in order to burn the documents, and to burn the Palais de Justice in order to burn the clerk's office; consequently, in short, no conflagration in 1618. [Victor Hugo, Notre-Dame de Paris, or, The Hunchback of Notre Dame (1831), Volume I, Book First, Chapter I, "The Grand Hall".]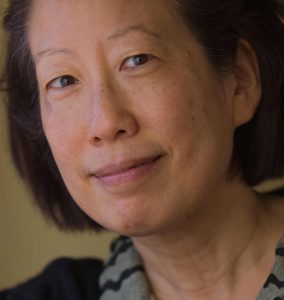 Gish Jen has written a series of novels about Chinese immigrant life in the United States.
William Trevor has written at least 2,000 pages of short-story fiction. "The default condition in his stories is loss and disappointment." He writes directly, allowing simple observations to tell his stories.
Other novels and stories:
Douglas Kennedy, Leaving the World (Hutchinson, 2009).
Geraldine Brooks, March (Viking, 2005): Brooks won the 2006 Pulitzer Prize with this novel about a man who leaves his family to support the Union in the Civil War.

Michael Chabon,

Moonglow

:

A Novel

(Harper/HarperCollins Publishers, 2016): "

'After I'm gone, write it down,' the narrator's grandfather tells him. 'Explain everything.'

"

Jennifer Egan,

Manhattan Beach

:

A Novel

(Scribner, 2017): "

For Anna the sight of the sea provides an 'electric mix of attraction and dread' while for Eddie it's 'an infinite hypnotic expanse' and for Dexter it's 'never the same on any two days, not if you really looked.' Egan really looks, and so do her characters. Turning their backs on the crowded constraints of their urban lives, all three look to the ocean as a realm that while inherently dangerous also promises the potential for personal discovery and an almost mystical liberty.

"

Margaret Drabble,

The Dark Flood Rises

:

A Novel

(Farrar, Straus & Giroux, 2017): " . . .

this humane and masterly novel by one of Britain's most dazzling writers is something else as well, deeper than mere philosophy: a praisesong for the tragical human predicament exactly as it has been ordained on Earth, our terminal house.

"

Namwali Serpell,

The Old Drift

:

A Novel

(Hogarth, 2019): " . . .

an intimate, brainy, gleaming epic, set mostly in what is now Zambia, the landlocked country in southern Africa. It closely tracks the fortunes of three families (black, white, brown) across four generations.

"

Tishani Doshi, Small Days and Nights: A Novel (W.W. Norton & Company, 2020): ". . . about a woman whose mother's death prompts her to leave her unhappy married life in America and rebuild her home and family back in India."
Hillary Leichter, Temporary: A Novel (Coffee House Press, 2020): ". . . a brisk, wildly imaginative first novel by Hilary Leichter, the unnamed protagonist is a temp worker who trudges between 23 jobs."
Visual Arts
Film and Stage
Poetry
Seeds in a dry pod, tick, tick, tick,
Tick, tick, tick, like mites in a quarrel--
Faint iambics that the full breeze wakens--
But the pine tree makes a symphony thereof.
Triolets, villanelles, rondels, rondeaus,
Ballades by the score with the same old thought:
The snows and the roses of yesterday are vanished;
And what is love but a rose that fades?
Life all around me here in the village:
Tragedy, comedy, valor and truth,
Courage, constancy, heroism, failure--
All in the loom, and oh what patterns!
Woodlands, meadows, streams and rivers--
Blind to all of it all my life long.
Triolets, villanelles, rondels, rondeaus,
Seeds in a dry pod, tick, tick, tick,
Tick, tick, tick, what little iambics,
While Homer and Whitman roared in the pines?
[Edgar Lee Masters, "Petit, the Poet"]
Music: songs and other short pieces
Music: Composers, artists, and major works
Frédéric Chopin, 24 Preludes, Op. 28 (1839-1841), reflect many moods in short duration. Chopin wrote 24 of them because there are 24 musical keys: he was modeling them after Bach's Well-Tempered Clavier. Yet they are personal, "deeply tied with upheavals in Chopin's personal life . . ." at the time he composed them. Top recorded performances are by Alfred Cortot (1926), Benno Moiseiwitsch (1949), Maurizio Pollini (1974), Rudolf Serkin (1976), Martha Argerich (1977), Evgeny Kissin (2000), Nikolai Lugansky (2002), Rafał Blechacz (2007), Alexandre Tharaud (2008) and Nelson Goerner (2015).
Ludovico Einaudi, "Seven Days Walking", is a musical journey through seven days of lived experience, symbolizing the components of a life. "The meandering flow of his thoughts as he walked in the Swiss countryside was something he wanted to capture in music."
Frank, Hilos (Threads) for clarinet and piano trio (2010): "Scored for clarinet, violin, cello, and piano, the eight movements mix and match the players to allude to the beauty of Peruvian textiles both in their construction and in their pictoral content of everyday life." [the composer]
Antonin Dvořák, Poetic Tone Pictures (Poetische Stimmungsbilder) Op. 85, B. 161 (1889) (approx. 55-60 minutes), consists of thirteen pieces for solo piano. "Rather than following a narrative, these 13 substantial pieces are more meditations on their titles . . ." ". . . the 13 character pieces that comprise the Poetic Tone Pictures reveal an incredibly rich, enchantingly diverse world of inner images." The composer wrote: "It is . . . a pity that probably few pianists will have sufficient courage to play them all in succession (they last almost three-quarters of an hour); yet only in this way can the listener obtain a proper notion of what I intended, for this time I am not just an absolute composer but also a poet."
Other works:
Hanson, Mosaics (1958)
Bargiel, 3 Character Pieces (Drei Charakterstücke), Op. 8, present the individual as a tapestry.
Gudmundsen-Holmgreen, For Piano (1992): ". . . like life itself, full of contrasts and clashes." [Jens Cornelius, from the booklet accompanying this album.]
Henryk Górecki, String Quartet No. 2, "Quasi una Fantasia", Op. 64 (1991) (approx. 32-40 minutes): many dark-hued themes with no apparent unifying thread

Goldenweiser,

Piano Trio in E Minor, Op. 31
Fauré, 13 Barcarolles (1881-1921)
Prokofiev, War & Peace (1942): an opera based on Tolstoy's novel (performances conducted by Wanamaker, Temirkanov, Gergiev and Bertini)
Enescu, Symphony No. 2 in A Major, Op. 17 (1914)
Berg, Chamber Concerto for Piano and Violin with 13 Wind Instruments (1925)
Coles, Overture "The Comedy of Errors"
Vaughan Williams, The House of Life (1903)
Michael Maier (1569-1622) composed "The Fifty Fugues of Atalanta Fugiens", the titles of which refer to episodes in someone's life.
Lera Auerbach, 24 Preludes for piano, Op. 41 (1998) (here they are with violin and piano, also here): these are "short tone-poems that feature polystylistic writing, harmonic contrasts, color, and texture", expressing a wide variety of moods. Extending on these are her 10 Dreams for piano, Op. 45.
John Adams, Harmonium (1980)
Alexander Tcherepnin, Eight Pieces for Piano, Op 88 (1954/1955): eight moods, essentially, evoking episodes in life.
Here are two string quartets from Romantic era composers, which sound more like Modern-era works. They suggest the vicissitudes of life.
Albums: