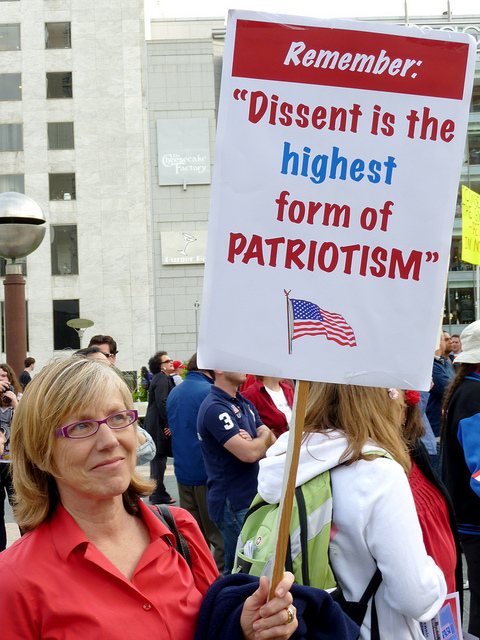 Perhaps nothing is more strongly disapproved in national life — especially the national life of a wealthy and successful people — than dissent. Yet in every field, dissent is indispensable to progress. Apparently, Thomas Jefferson did not write that "dissent is the highest form of patriotism," but we might conclude that he believed it from some of his other remarks, quoted above. In a classic work of intellectual history, Thomas Kuhn observed that scientific progress usually results from crisis and turmoil in established fields of science, begins as dissenting scientists (usually young ones) challenge established theories, proceeds through a period of bitter rejection by the "establishment" and ends with the emergence of new theories replacing the old. [Thomas S. Kuhn, The Structure of Scientific Revolutions (University of Chicago Press, 1962).] We see the same process in virtually every field of human endeavor, and yet time after time otherwise intelligent people fight furiously to preserve established methods that have fallen into crisis.
Sometimes, in our quest to reduce life to terms we can comprehend, or in an attempt to preserve personal or group privileges, we humans have tried to squelch diversity. Because of our particular nature as a social species, we developed a natural inclination to prefer conformity. Conformity has its place but sometimes people are inclined to suppress our differences solely for the sake of personal comfort. This has led to an unfortunate tendency toward unthinking suppression of dissent and unfamiliar lifestyles. The struggle against this has been a long one and the battles have been intense. For that reason, our narrative on this subject is rich.
Real
Technical and Analytical Readings
Freeman Dyson, The Scientist As Rebel (New York Review Books, 2006).
True Narratives
I suggest the following works on the history of dissent. These narratives are especially compelling in the United States, whose form of government is republican/democratic, whose origins are those of political dissent and whose Constitution proclaims a formal commitment to the right to petition the government for a redress of grievances.
Barry Hankins and Derek Davis, New Religious Movements and Religious Liberty in America (J. M. Dawson Institute of Church-State Studies, 2002).
Frank Lowenstein, Sheryl Lechner and Erik Bruun, eds., Voices of Protest!: Documents of Courage and Dissent (Black Dog & Leventhal Publishers, 2007).
Gordon S. Wood, The Radicalism of the American Revolution (Alfred A. Knopf, 1991).
Robert B. Woods, ed., Vietnam and the American Political Tradition: The Politics of Dissent (Cambridge University Press, 2003).
Bud Schultz, The Price of Dissent: Testimonies to Political Repression in America (University of California Press, 2001).
Bud Schultz and Ruth Schultz, It Did Happen Here: Recollections of Political Repression in America (University of California Press, 1989).
Barrows Dunham, Heroes and Heretics: A Social History of Dissent (Alfred A. Knopf, 1964).
Timothy L. Wood, Agents of Wrath, Sowers of Discord: Authority and Dissent in Puritan Massachusetts, 1630-1655 (Routledge, 2005).
Ellen Levine, Freedom's Children: Young Civil Rights Activists Tell Their Own Stories (Putnam Juvenile, 1993).
Joseph W. Esherick, Paul G. Pickowicz, and Andrew G. Walder, eds., China's Cultural Revolution as History (Stanford University Press), 2006).
Chihua Wen, The Red Mirror:Children of China's Cultural Revolution (Westview Press, 1995).
Aleksandr Iksaevich Solzhenitsyn, The Gulag Archipelago, 1918-1956 (Harper Collins, 1974).
Leona Toker, Return From the Archipelago: Narratives of Gulag Survivors (Indiana University Press, 2000).
Janusz Bardach and Kathleen Gleeson, Man Is Wolf to Man: Surviving the Gulag (University of California Press, 1998).
Evgeniia Semenovna Ginzburg, Journey into the Whirlwind (Harcourt, Brace & World, 1967).
Richard Hofstadter, Anti-Intellectualism in American Life (Knopf, 1963).
Julia Alvarez, In the Time of Butterflies (Algonquin Books, 1994).
Vibeke Schou Tjalve, Realist Strategies of Republican Peace: Niebuhr, Morgenthau, and the Politics of Patriotic Dissent (Palgrave Macmillan, 2008).
Gabriel Audisio, The Waldensian Dissent: Persecution and Survival, c.1170-c.1570 (Cambridge University Press, 1999).
Euan Cameron, Waldenses: Rejections of Holy Church in Medieval Europe (Wiley-Blackwell, 2001).
J. A. Wylie, History of the Waldenses (Church History, 1985).
Stephen L. Carter, The Dissent of the Governed: A Meditation on Law, Religion, and Loyalty (Harvard University Press, 1998).

Richard Hoffer,

Something In the Air

:

American Passion and Defiance in the 1968 Mexico City Olympics

(Free Press, 2009): Hoffer's "

jaunty but disciplined prose puts the wind at the reader's back and shows us how the leaps, lifts and dashes of 1968 made a significant impact on the civil rights movement and raised the political consciousness of athletes.

"

Noah Feldman, The Broken Constitution: Lincoln, Slavery, and the Refounding of America (Farrar, Straus & Giroux, 2021): "Was the Constitution Pro-Slavery? Jefferson Davis Thought So. Abraham Lincoln Didn't."
We need not share Martin Luther's theology to appreciate the power of his dissent.
Dissent is a form of intervention.
In the United States, it has ended wars and opened doors for oppressed peoples.
Of course, there have been great intellectual dissenters.
All over the world, throughout history, injustice has compelled people to dissent.
Knud Haakonssen, Enlightenment and Religion: Rational Dissent in Eighteenth-Century Britain (Cambridge University Press, 1996).
Madawi Al-Rasheed, Contesting the Saudi State: Islamic Voices from a New Generation (Cambridge University Press, 2006).
Mamoun Fandy, Saudi Arabia and the Politics of Dissent (Palgrave MacMillan, 1999).

Cristina De Stefano,

Oriana Fallaci

:

The Journalist, the Agitator, the Legend

(Other Press, 2017): "

Someone should write an opera about her: La Fallaci, beautiful, extravagant, courageous survivor of war and tempestuous love affairs, speaker of truth to power.

. . .

Her interviews remain studies in speaking truth to power. Interviewing Ayatollah Khomeini, she famously called the chador a "stupid, medieval rag" and took it off, provoking the Ayatollah to leave the room.

"
Humor can be a vehicle for dissent.
Music can be a vehicle for dissent.
Personal histories of dissent:
Documentary and Educational Films
Imaginary
Film and Stage
Fictional Narratives
Novels:
Music: Composers, artists, and major works
Dmitri Shostakovich was a dissident composer in the truest sense of the word. As a Soviet citizen under Stalin and then Kruschev, he faced intense pressure to compose music that pleased state officials, and more pressingly perhaps, not to compose music that displeased them. Keenly aware of the atrocities within the Soviet system, Shostakovich was driven to compose the music that spoke truth as he saw it. Several of his works reflect this drive, which gained expression during periods when he was able to resist pressure from the state. They constitute a forbidden critique of Soviet government and culture.
Symphony No. 5 (1937), in which Shostakovich subtly mocks the state's glory (documentary and concert) (performances conducted by Rodzinski in 1942, Bernstein in 1959, Ormandy in 1965, Previn in 1965, Kurt Sanderling in 1982, Maxim Shostakovich in 1990, Petrenko in 2008, Kondrashin and Mravinsky in 1983)
Symphony No. 7 (1941), musically commenting on Stalin, as well as Hitler (performances conducted by Gergiev, Svetlanov, Järvi, Toscanini, Haitink and Bernstein)
Symphony No. 9 (1945), intended to deflate Stalin's ego (performances conducted by Gergiev, Rozhdestvensky, and Bernstein)
Symphony No. 13, "Babi Yar" (1962), in honor of the Jewish peoples (performances conducted by Petrenko, Kondrashin and Barshai)
String Quartet No. 8 in C minor, Op. 110 (1960), portraying the composer as a victim of fasciam (performances by Borodin Quartet, Beethoven Quartet and Jansen, et. al.)
From Jewish Folk Poetry (1948) (performances with Shostakovich, on piano, Södrström singing, and Polyansky conducting)
Anti-Formalist Rayok (1960), a musical satire on the USSR's treatment of composers and their music (performances conducted by Platonov, Leiferkus and Spivakov)
Satires (Pictures of the Past), Op. 109 (1960), on ideology
Michelangelo Verses (1974), a commentary on Solzhenitsyn's exile from the USSR (sung by Nestrenko, Hvorostovsky and Abdrazakov)
Shostakovich also used humor and irony, such as in his Concerto No. 1 in C minor for Piano, Trumpet and String Orchestra, Op. 35 (1933), and his Piano Concerto No. 2 in F Major, Op. 102 (1957). These works create musical images of Soviet citizens rushing about frenetically, surrounded by military themes and rhythms.
Other works:
Albums:
From the dark side:
Weill, Der Jasager (He Who Says Yes): The dark side of dissent is not having the freedom to do it.
Music: songs and other short pieces
Blaise Siwula, Nicolas Letman-Burtinovic & Jon Panikkar, "

Dissension

"