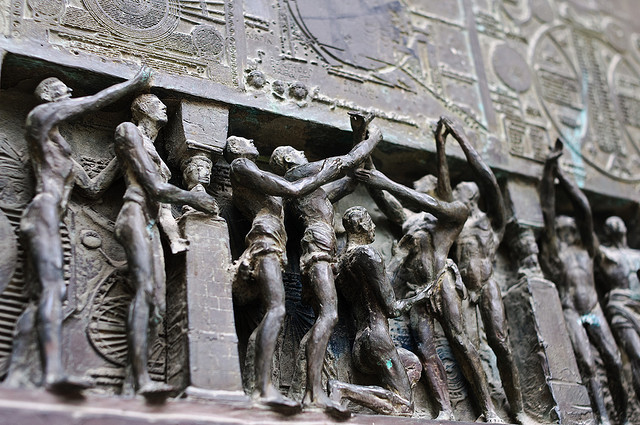 I regard as impious and detestable the maxim that in matters of government the majority of a people has the right to do everything, and nevertheless I place the origin of all powers in the wishes of the majority. Am I in contradiction with myself? There exists a general law which has been made, or at least adopted not only by the majority of this or that people but by the majority of all men. This law is justice. Justice thus forms the limit to the right of each people. [Alexis de Tocqueville, Democracy in America (1835), Volume One, Book One, Chapter XV, "Unlimited Power of the Majority and Its Consequences," Part II, "Tyranny of the Majority".]
Thomas Jefferson wrote that the rights to life, liberty and the pursuit of happiness were God-given and inalienable. That states a marvelous ideal but not a reality. People and their governments, including Jefferson's government, have denied these rights regularly and systematically.
Human rights is a central liberal value but we would be dishonest if we did not acknowledge that people choose to accord rights to others, and often have chosen not to honor those rights. We would also be dishonest if we did not acknowledge that life presents ethical challenges that are not only difficult but practically impossible. For example, when a group of people, such as nation, is under attack, some innocent lives may be lost in defense of other innocent lives. Hard as it may be to admit, all ethics are situational, including human rights.
When a polity adopts a commitment to the rights of living beings, that commitment must be seen in the context of circumstances. People may fear that an honest acknowledgement of reality leaves the door too wide open for abuse but history offers little reason to think that people are any more likely to keep an unrealistic commitment. History is full of human rights abuses, including in the United States. Perhaps by being honest, and by taking our values seriously, we can begin the long road toward an enduring system of justice.
Real
True Narratives
I have mentioned my great-aunt, who was a slave in Dr. Flint's family, and who had been my refuge during the shameful persecutions I suffered from him. This aunt had been married at twenty years of age; that is, as far as slaves can marry. She had the consent of her master and mistress, and a clergyman performed the ceremony. But it was a mere form, without any legal value. Her master or mistress could annul it any day they pleased. She had always slept on the floor in the entry, near Mrs. Flint's chamber door, that she might be within call. When she was married, she was told that she might have the use of a small room in an outhouse. Her mother and her husband furnished it. He was a seafaring man, and was allowed to sleep there when he was at home. But on the wedding evening, the bride was ordered to her old post on the entry floor. [Harriet Jacobs, Incidents in the Life of a Slave Girl (1861), Chapter XXVIII, Aunt Nancy.]
Champions of human rights:
Wole Soyinka, author, "passionate defender of human rights" and recipient of a 1986 Nobel Prize in literature.
Wole Soyinka, Aké: The Years of Chilhood (Aventura, 1983).
Wole Soyinka, You Must Set Forth at Dawn (Random House, 2006).
Wole Soyinka, Of Africa (Yale University Press, 2012).
Abuses of human rights:
Imaginary
Visual Arts
Film and Stage
Music: Composers, artists, and major works
With a compelling blend of tight harmonies, a deep expression of human dignity and an attitude that combines optimism and compassion, the a capella singing troupe from South Africa, Ladysmith Black Mambazo, expresses the ideal of human rights in music. The group's career began during apartheid, and continued until its founder's death in 2020. Their albums include:
Other artists and their albums: