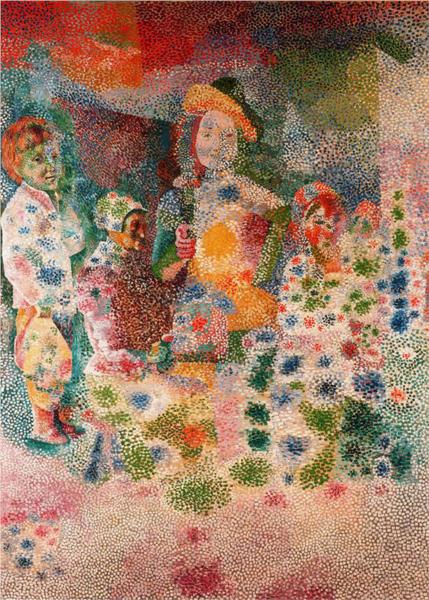 Homo sapiens is a social species. We rely on each other for comfort, companionship, support, nurturance and guidance. We also rely on each other for a reassurance, so most of us respond positively to another person's joy and negatively to another person's suffering. By paying attention to and developing our relationships with others, we lay down another building block to a well-lived life.
Real
Technical and Analytical Readings
Journals on human relationships:
True Narratives
Book narratives:
Nations and their leaders build relationships, which usually are transactional. Here are narratives about some of those:
From the dark side, or maybe gray:
Imaginary
Visual Arts
Music: songs and other short pieces
Fictional Narratives
In this passage from Les Misérables, Hugo describes the moment when Cosette, only eight years old, recognizes that Jean Valjean has brought something new and wonderful into her life:
Cosette, on her side, had also, unknown to herself, become another being, poor little thing! She was so little when her mother left her, that she no longer remembered her. Like all children, who resemble young shoots of the vine, which cling to everything, she had tried to love; she had not succeeded. All had repulsed her,--the Thénardiers, their children, other children. She had loved the dog, and he had died, after which nothing and nobody would have anything to do with her. It is a sad thing to say, and we have already intimated it, that, at eight years of age, her heart was cold. It was not her fault; it was not the faculty of loving that she lacked; alas! it was the possibility. Thus, from the very first day, all her sentient and thinking powers loved this kind man. She felt that which she had never felt before--a sensation of expansion. The man no longer produced on her the effect of being old or poor; she thought Jean Valjean handsome, just as she thought the hovel pretty. These are the effects of the dawn, of childhood, of joy. The novelty of the earth and of life counts for something here. Nothing is so charming as the coloring reflection of happiness on a garret. We all have in our past a delightful garret. Nature, a difference of fifty years, had set a profound gulf between Jean Valjean and Cosette; destiny filled in this gulf. Destiny suddenly united and wedded with its irresistible power these two uprooted existences, differing in age, alike in sorrow. One, in fact, completed the other. Cosette's instinct sought a father, as Jean Valjean's instinct sought a child. To meet was to find each other. At the mysterious moment when their hands touched, they were welded together. When these two souls perceived each other, they recognized each other as necessary to each other, and embraced each other closely. Taking the words in their most comprehensive and absolute sense, we may say that, separated from every one by the walls of the tomb, Jean Valjean was the widower, and Cosette was the orphan: this situation caused Jean Valjean to become Cosette's father after a celestial fashion. And in truth, the mysterious impression produced on Cosette in the depths of the forest of Chelles by the hand of Jean Valjean grasping hers in the dark was not an illusion, but a reality. [Victor Hugo, Les Misérables (1862), Volume II – Cosette; Book Fourth – The Gorbeau Hovel, Chapter III, Two Misfortunes Make One Piece of Good Fortune.]
Having taken the infant Quasimodo into his care, Claude Frollo reflects on the meaning of his actions.
This young brother, without mother or father, this little child which had fallen abruptly from heaven into his arms, made a new man of him. He perceived that there was something else in the world besides the speculations of the Sorbonne, and the verses of Homer; that man needed affections; that life without tenderness and without love was only a set of dry, shrieking, and rending wheels. Only, he imagined, for he was at the age when illusions are as yet replaced only by illusions, that the affections of blood and family were the sole ones necessary, and that a little brother to love sufficed to fill an entire existence. [Victor Hugo, Notre-Dame de Paris, or, The Hunchback of Notre Dame (1831), Volume I, Book Fourth, Chapter II, "Claude Frollo".]
Novels:
Eleanor Henderson, Ten Thousand Saints: A Novel (HarperCollins Publishers, 2011): on how relationships hold us together and sometimes destroy us.

Joan Silber,

Improvement

:

A Novel

(Counterpoint, 2017): "

This is a novel of richness and wisdom and huge pleasure. Silber knows, and reveals, how close we live to the abyss, but she also revels in joy, particularly the joy that comes from intimate relationships.

"

Nicole Dennis-Benn,

Patsy

:

A Novel

(Liveright, 2019): "

Nicole Dennis-Benn carefully unspools the stories behind each wound over the long course of this richly imagined novel, her second; their provenances emerge gradually, piece by piece, the way a person's story of trauma emerges only with time and trust. Without giving those stories away, I'll simply say that this subtle motif beautifully illustrates how the characters are connected to one another by love, desire and violence, and how they bear those histories permanently, both within and on their bodies.

"

Joseph O'Connor, Shadowplay: A Novel (Europa, 2020): "How Did Bram Stoker Dream Up 'Dracula'?" [on the events and relationships that inspired Bram Stoker's Dracula]
Martin Amis, Inside Story: A Novel (Alfred A. Knopf, 2020): "It purports to be an autobiographical novel — "life-writing," Amis calls it — featuring a number of real people, many of them famous, along with others who've been lightly pseudonymed, yet it's also, somehow, a vocational primer on how to write fiction, and an excellent one at that."
Francesco Pacifico, The Women I Love: A Novel (Farrar, Straus & Giroux, 2021): "His tone . . . suggests an attitude beyond gratitude, approaching reverence, for the generation that lived through and prospered after the trauma of World War II."
From the dark side:
Film and Stage
Music: Composers, artists, and major works
Despite its many dark passages and its composition in a minor key, for most of its duration, Brahms' Symphony No. 4 in E minor, Op. 98, is an optimistic cascade of interwoven harmonies throughout the orchestra. Its upbeat tone and the positive interplay between the various instrumental voices evokes a sense of exquisite joy, and its passion trumpets the power of those feelings. Each movement can be heard as an exposition on the kinds of relationships that give special qualities of meaning to our lives. I will explore the symphony through a performance conducted by Kurt Sanderling in 1972, which I believe to be the among work's finest recordings. Other great recordings are conducted by, Toscanini in 1952, Reiner in 1962, Karajan in 1988, Abbado in 1991, Harnoncourt in 1997, Alsop in 2007, Gardiner in 2008, Janowski in 2008, and Blomstedt in 2022. In contrast, hear this dark reading conducted by Carlos Kleiber in 1980, and this tragic reading conducted by Furtwängler in 1948.
Intimate and tender, Mozart's ethereal Clarinet Quintet in A Major, K 581, "Stadler" (1789) provides a perfect counterpoint to Brahms' Fourth Symphony in expressing the concept of relationships. The work is presented from the perspective of the clarinet-protagonist. Wrap yourself in its rich, buttery tones, and spiritually embrace your friends as you listen to this Romantic masterpiece. Martin Fröst's performance may capture it best.
Chamber works of Arnold Bax:
Works of Richard Stöhr:
Chamber works by Franz Berwald:
Other works:
Beethoven, Triple Concerto for Piano, Violin, Cello and Orchestra in C major, Op. 56 (1803)
Brahms, Double Concerto for Violin, Cello & Orchestra in A Minor, Op. 102 (1887)
In his Symphony in F Major, Op. 8, H 47, "The Cotswolds" (1900), Gustav Holst wrote of his land and people he loved and admired.
Dvořák, Moravian Duets
Herzogenberg, String Quartet No. 3, Op. 42, No. 3: 1. Allegro energico; 2. Andantino; 3. Allegro molto; 4. Allegro.
Goetz, Piano Quartet in E Major, Op. 6
Appleton, Julia (2001): piano pieces evoking tenderness
Baksa, Sonata for Flute and Guitar (2004)
Borodin, Piano Trio in D Major, Op. posth. (1860)
Draeseke, Quintet in B-flat Major for piano, French horn and strings, Op. 48 (1888)
Enescu, Piano Suite No. 2, "Des choches sonores" (The Ringing Bells) in D Major, Op. 10 (1903)
Biarent, Rapsodie wallonne for piano & orchestra (1910)
Bernstein, Facsimile, Choreographic Essay for Orchestra (1946)
Albert Schnelzer, Remembering Clara – Burn My Letters (2019): about the intense relationship between Clara Schumann and Johannes Brahms. They met when Clara was married to composer Robert Schumann. They remained in contact after Robert died but never became intimately involved, as far as we know. However, as virtuoso and genius, they shared an understanding of and passion for music.
Albums:
From the dark side:
Janáček: String Quartet No. 1 (

inspired by Tolstoy's novella "The Kreutzer Sonata", which had been inspired by Beethoven's Kreutzer Sonata

), JW7/8 (1923): this modern string quartet is "a tale of failed wedlock, jealousy, adultery and murder," telling "of the destructive power of passion." [Ates Orga, from program notes for this album.] The husband descends into unhappiness and madness as the cuckold (first violin) flits in and out at will.
Péter Eötvös, Three Sisters (1998): derived from Chekhov's play by the same title, the opera explores dysfunctional family relationships.
Poetry
Had I the heavens' embroidered cloths,
Enwrought with golden and silver light,
The blue and the dim and the dark cloths
Of night and light and the half-light,
I would spread the cloths under your feet:
But I, being poor, have only my dreams;
I have spread my dreams under your feet;
Tread softly because you tread on my dreams.
[William Butler Yeats, "He Wishes for the Cloths of Heaven"]
Other poems:
From the dark side: