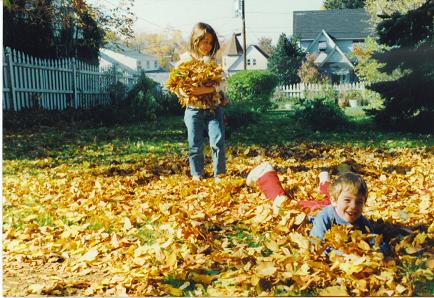 I'm going out to clean the pasture spring;
I'll only stop to rake the leaves away
(And wait to watch the water clear, I may):
I shan't be gone long. — You come too.
I'm going out to fetch the little calf
That's standing by the mother. It's so young
It totters when she licks it with her tongue.
I shan't be gone long. — You come too.
[Robert Frost, "The Pasture" (1915).]
A popular wedding song asks a brilliant and essential question: "If loving is the answer, then who's the giving for?" The best answer is that it is for each and all of us. Where, then, does that begin? Obviously, it begins within. Now, what does that mean? I will start at what we could call the beginning.
.
We rise to greet the day. We breathe the air and feel our bodies returning to wakefulness. We take in the sights, sounds and smells of our day: the sunshine, snow or rain, the quiet or clamor of our surroundings, the fresh or musty smells of our place of awakening, perhaps coffee or oatmeal. We begin again in these moments of awakening to live our relationships with others and with the world around us. We begin our day's work and play, contemplation and activity, giving and taking. We will eat, breathe, work, rest, imagine, hope and dream in this day.
What is the value of a life? It is all these experiences and more. It is our self-awareness, and our awareness of the world around us, through our sensations, thoughts, emotions and actions. It is happiness and sorrow, pleasure and pain, contentment and want, longing and fulfillment, health and illness, the knowledge of life and death. It is loving, giving and sharing with others. It is the experience of living, in which, without exception, we must abide to Know what matters.
You are reading the first page of the body of a compendium about ethical and spiritual living. It contains many words and ideas, asks many questions and suggests some answers. Such a thing is a valuable tool but its language is only a medium. Albert Einstein, who was speech delayed as a toddler, understood this well. As an adult, he observed that this delay helped him become a better scientist because it allowed him to experience the world on its own terms without having to fit it into the arbitrary categories imposed by language. This is true for everything in life. Words convey thoughts, feelings, emotions, injunctions and the like, but their nature flattens everything they touch.
Do not be confused. The Truth resides not in mere words but in the experience we call life. The capitalized word "Truth" refers to the inner Truth of Being, as opposed to objective, material, scientific or historical truth, which I do not capitalize. Truth speaks to sacred life in Being, as opposed to truth, which speaks to the mundane.
You Know this Truth and have always Known it but sometimes we forget. A book can help you understand it better, but your Knowing does not come from reading a book. No one can know the value or meaning of life merely from reading. Life contains its own wordless questions and answers. Walt Whitman put it like this:
Logic and sermons never convince,
The damp of the night drives deeper into my soul.
(Only what proves itself to every man and woman is so,
Only what nobody denies is so.)
[Walt Whitman, Leaves of Grass, Book III, # 30.]
On this site I will provide a poor summary of the human narrative. Mainly I will rely on the works of others, because the human narrative is so vast that I can only scratch the surface of its telling, even in my selection of stories to tell and reference. It is a vast narrative, which includes our science, our art, our literature and our lives. I will attempt to tell it in a way that best suits each subject, recognizing that merely telling is not living. Read, then, but read mindfully. Never forget who is reading.
What is the value of a life? The life undisturbed by words does not ask such questions. It Knows the answers. It has always Known them, and it always will, even if the living one does not know how to ask the questions.
There is no moral judging in this conception of human worth. I will not presume to define what "being human" means. There is no need. You already know. The point is simply that the life experience is what we value. A look at the music, art and poetry I have selected for this day should give you the idea. Honor, then, and cherish the life experience in others and in yourself. This is our story.
Real
Technical and Analytical Readings
The foundations of our humanity are encoded in our genes. All the instructions for our thought, emotion, action and sensation are contained there. Our genetic code is not the story of our experience, but it is the story of its foundations. An excellent source of literature is Human Genome Project - A Medical Dictionary, Bibliography, and Annotated Research Guide to Internet References by Health Publica Icon Health Publications (ICON Health Publications, 2004). Online resources include the Human Genome Project home and project, its National Institutes of Health site and a genome map.
Before the human genome project was begun, several researchers were at work tracing the geographical path of intra-human genetic evolution. A massive tome by L. Luca Cavalli-Sforza, Paolo Menozzi and Alberto Pizza entitled The History and Geography of Human Genes (Princeton University Press, 1994) tells the story and relates the findings of this work, which traces our genetic path from our origins in Africa into Europe, across Asia and into the Pacific, across the Bering Strait into North America, and then into South America. This genetic pathway further confirms the reality of our evolutionary history.
Still, what makes us uniquely human? No doubt our large brain does, with our highly developed cerebral cortex. Once we understand the genetic history of our species, and have the technological means to track brain activity and correlate it to experience, we can begin to understand the biological origins of ethics, morality, religion and spirituality. In this sense, these disciplines are just beginning to uncover who we are. Less than a generation old, this is an emerging topic in the cognitive neurosciences. The following works are among the most accessible. Strictly speaking, they are not narratives but I know of no better way to tell the story of what makes us human, or provide insight into the nascient field that will provide us with new ways of looking at ourselves.
Our eyes opened to ourselves tens of thousands of years ago when humans first became self-aware. Now, our eyes are opening more widely, as we begin to gain a fuller awareness of what being human means.
***************
An ant is an action machine. It has a tiny evolutionary precursor to a brain, no sense of self, no apparent emotional life, and no capacity for what we call thought. It is genetically programmed to perform its tasks, reproduce and die.
A lobster will react to painful stimuli, but whether it experiences sensation as we do is a matter of contention. It has no sense of self, no emotional life that we know of, and no known capacity for thought.
Farther along the evolutionary chain, a mouse experiences pain and pleasure. Its emotional life is comparatively simple, and it has only a rudimentary capacity for thought. By contrast, elephants appear to mourn the death of herd and family members, and can be trained to perform tasks that require skills far beyond those of a mouse.
Dolphins, whales and chimpanzees are among the most intelligent non-humans. They have rich emotional lives and fine intellects compared to all other species except one.
The human being is a remarkable creature. In fact, it is probably the only creature capable of assessing itself to be remarkable. (Cats only seem arrogant.) We have a wealth of technical literature on human being.
The cognitive neurosciences are among the most promising and rapidly expanding fields in science. The psychology of a century ago was largely a collection of observations and essays. Today, scientific research in cellular and molecular biology, brain imaging and other fields has moved the disciplines of human understanding into the realm of hard science. The Society for Neuroscience, which has approximately 36,000 members worldwide, is approximately forty years old. For the first time, we are uncovering the biochemical foundations of thought and behavior at a rapid pace. This will make possible new treatments for diseases and disorders of the brain and mind.
Perhaps the most comprehensive single treatise in this field is Michael S. Gazzaniga, The Cognitive Neurosciences: The Biology of the Mind (The MIT Press, 2009). The text cites numerous references in the field, and many more have emerged since the publication date. (See, for example, The Journal of Cognitive Neuroscience, The European Journal of Neuroscience, The Journal of Consciousness Studies and Consciousness and Cognition.) A few of us will spend a lifetime in this important discipline. For the rest of us, the story of how we came to understand ourselves will become an increasingly important part of our human narrative. Below are some of the leading books in the field:
True Narratives
Our narrative begins with the Big Bang and the ten billion years before life emerged on Earth.
Slices of life, as it is:
Humanity
This entire work is about humanity. Virtually every narrative here is a narrative about humanity. No narrative can encompass our entire story but among the best efforts are those of Will and Ariel Durant in their superb eleven-volume Story of Civilization (1935-75), and H. G. Wells in his Outline of History (1920). These works tell our historical story in broad strokes.
On the basics of consciousness:
Documentary and Educational Films
Imaginary
Poetry
Robert Frost's poem, "The Pasture Spring," so perfectly captures the spirit of Being that I chose to begin the day, the year and our journey with it. Here are some other poems, also brilliant and marvelous, that address Being.
A longer, deeper breath sustains / The eloquence of right, since knowing / And being are one: the right to know / And the right to be are one. We come / To knowledge when we come to life. [Wallace Stevens, from "The Sail of Ulysses".]
The pride of the peacock is the glory of God. / The lust of the goat is the bounty of God. / The wrath of the lion is the wisdom of God. / The nakedness of woman is the work of God. [William Blake, "Proverbs of Hell".]
I exist as I am, that is enough, / If no other in the world be aware I sit content, / And if each and all be aware I sit content. [Walt Whitman, Leaves of Grass, Book III, # 20.]
Other poems:
Books of poems:
Music: songs and other short pieces
John Lennon's Imagine expresses an ideal vision of human life, reduced to its essence.
Nawang Khechog, Finding It Within
Visual Arts
Michelangelo Buonarroti's "

The Creation of Adam

" (c. 1510) captures the symbolic essence of humanity's emergence in a painting, in which we see an image of the Judeo-Christian God touching its first man, index finger to index finger in the primordial

touch of life

. The man is fully formed and apparently aware, thereby representing a human being, as opposed to an organism in any other species. He is also naked, symbolizing that the touch of human-ness is for him the beginning, the most direct communication with human origins. Paradoxically, the painting thus invokes not merely the touch of life, but also the touch of the forbidden fruits of knowledge and self-awareness. Much of our great art comes out of a monotheistic tradition, which should be no surprise considering that most of our great artists grew up and lived amid such traditions. I am inclined to see the gods of monotheism as our self-image writ large on the universe. Perhaps nothing expresses this better than Michelangelo's famous fresco, which still adorns the ceiling in the Vatican's Sistine Chapel.See:
Andrew Graham-Dixon, Michelangelo and the Sistine Chapel (Weidenfeld & Nicolson, 2008).
Benjamin Bloch and Roy Doliner, The Sistine Secrets: Michelangelo's Forbidden Messages in the Heart of the Vatican (HarperOne, 2008).
Ross King, Michelangelo and the Pope's Ceiling (Penguin, 2003).
Bart McDowell, Inside the Vatican (National Geographic, 2005).
Kasemir Malevich, Morning in the Village After Snowstorm (1912)
Edward Hopper, Cape Cod Morning (1950)
René Magritte, Portrait (1935)
Edvard Munch, Morning (1884)
Camille Corot, Morning by the Water (1870)
Karl Bryullov, Italian Morning (1823)
Antoine Pesne, Portrait of a Man ()
Adriaen van Ostade, An Old Woman By Window (ca. 1640)
Adriaen van Ostade, A Man in the Window
Music: Composers, artists, and major works
Ludwig van Beethoven's Symphony No 7 in A major, Op. 92 (1812), sounds like a dance of life and a Humanist Creation story. Like life, "music is wonderful when music just is." Here are links to great performances conducted by Toscanini in 1936, Davis in 1961 (I, II, III, IV), Karajan in 1962, Carlos Kleiber in 1974, Bernstein in 1990, Gardiner in 1994, Abbado in 1999, Vänskä in 2008 (I, II, III, IV), Harnoncourt in 2008, Chailly in 2012, Honeck in 2014 and Savall in 2021.
Indian classical ragas:
Mahler, Des Knaben Wunderhorn (The Youth's Magic Horn) (1905), is a collection of songs drawn from old German folk poems, presenting slices of life. Baker and Evans in 1966, Schwarzkopf and Fischer-Dieskau in 1968, Ludwig and Berry in 1969, von Otter and Quasthoff in 1999, and Connolly and Henschel in 2005 gave top performances.
Samuel Barber's songs are evocations of being human. Knoxville: Summer of 1915, Op. 24 (1947) is an extended song about an ordinary evening. His other songs are brief, and have inspired an album by Cheryl Studer and Thomas Hampson, "The Songs".
Ernest John Moeran's folksongs offer bites of life:
Other works:
Albums:
From the dark side:
George Benjamin, Written on Skin: the title of this opera is taken from the ancient practice of writing manuscripts on animal skins. It is a story of how a boy's "Protector" and his wife both use the boy for their own ends. They did not honor, or even respect his intrinsic worth.
Dominick Argento, From the Diary of Virginia Woolf (1974), is a song cycle about the difficult life of a brilliant but troubled woman. She struggled to honor her own worth, and eventually committed suicide.
Fictional Narratives
A river rises in Eden to water the garden; beyond there it divides and becomes four branches. [The Bible, Genesis 2:10.]
Thought, emotion, action and sensation are the four branches of the river of life. Perhaps the main reason the Judeo-Christian Bible is the most popular and enduring work in history is that it appeals to people intuitively, expressing Truth in some form, though not as a biblical fundamentalist might think. Below are some fictional narratives illustrating human worth, and humanity.
David Rakoff, Love, Dishonor, Marry, Die, Cherish, Perish (Doubleday, 2013): a novel-in-verse, about life
Tessa Hadley, The London Train (Harper Perennial Press, 2011): an examination of two inner worlds, with an adulterous theme.
Kimberly Elkins,

What Is Visible

:

A Novel

(Twelve, 2014): " . . . c

ontemplates the bare requisites of being human, more fundamentally than most meditations on haves and have-nots. When Laura is put on display, she wants to be seen as 'a present to them all from God, to show how little one can possess of what we think it means to be human while still possessing full humanity.' A novel's extraordinary power is to allow a reader to take possession of the inner life of another.

"
Yaa Gyasi,

Homegoing

:

A Novel

(Alfred A. Knopf, 2016): "

The book tells the story of two half sisters unknown to each other and of the six generations that follow, their lineages broken by enslavement and cursed by premonitions that condemned those who were captured, those who were spared and those who sold hostages to the Europeans.

"
W.M. Akers,

Westside

:

A Novel

(Harper Voyager, 2019): " . . .

a novel steeped in existentialism while delivering gun molls, drunken wastrels and purebred thugs

.

"
Lucy Ellman,

Ducks

,

Newburyport

(Biblioasis, 2019): "

This book has its face pressed up against the pane of the present; its form mimics the way our minds move now: toggling between tabs, between the needs of small children and aging parents, between news of ecological collapse and school shootings while somehow remembering to pay taxes and fold the laundry.

"
Karl Ove Knausgaard has written "a six-volume, 3,600-page Norwegian novel about a man writing a six-volume, 3,600-page autobiographical novel".
Film and Stage