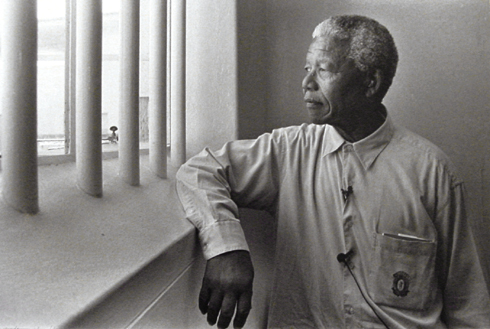 Many people have the wrong idea of what constitutes true happiness. It is not attained through self-gratification, but through fidelity to a worthy purpose. [Helen Keller]
There are thousands who are in opinion opposed to slavery and to the war, who yet in effect do nothing to put an end to them; who, esteeming themselves children of Washington and Franklin, sit down with their hands in their pockets, and say that they know not what to do, and do nothing. [Henry David Thoreau, "Civil Disobedience", 1849.]
Fidelity to a commitment to the highest good is the pinnacle of human ethical development. When a person's entire being is devoted to the most worthy ideal to which that person can aspire, the ethical journey has reached its final plateau. We see this not as arrival at a final destination because the point and purpose of reaching this lofty state of Being is to serve the good. We have "miles to go before (we) sleep" and a world of work to do.
Real
True Narratives
In his public life as an activist, Nelson Mandela exemplifies this virtue. Though imprisoned for twenty-seven years, he remained true to his commitment to justice for the black South African people.
Commitment fidelity on a larger scale:
Gary W. Gallagher,

The Union

War

(Harvard University Press, 2011): presenting the Civil War as a commitment by the North to transforming "

a government 'for white men' into one 'for mankind.'

"

Janice P. Nimura, The Doctors Blackwell: How Two Pioneering Sisters Brought Medicine to Woman – and Women to Medicine (W.W. Norton & Company, 2021): "Elizabeth, especially, would rhapsodize about humanity in the abstract, even as actual experiences of clinical intimacy could unnerve her. 'I feel neither love nor pity for men, for individuals,' she declared as a young doctor, in a letter to one of her brothers. 'But I have boundless love & faith in Man, and will work for the race day and night.'"
Imaginary
Music: Composers, artists, and major works
In the times of Beethoven and Mozart, people commonly saw devotion and fidelity to God as the greatest commitment of all. Yet Beethoven was an infrequent churchgoer and Mozart's playful irreverence was legendary. Formally, their compositions and especially their lyrics reflected their churches but their music voices a more universal idea. We can hear the idea of commitment fidelity expressed in their two most reverential works, both for chorus and orchestra. Though Beethoven was careful to compose his Missa solemnis in the style of the Church, most experts believe that his composition of this work reflected a conviction that our deeper obligation was to each other. Beethoven's Ninth Symphony, Op. 125 and composed in 1824, would celebrate human joy and freedom. We can hear the progression toward a more explicit Humanism by listening carefully to these two works.
Ernest Bloch's chamber works exude a seriousness of purpose, evoking this value.
Other works:
Film and Stage
Poetry
Poems:
Fictional Narratives
Novels:
Music: songs and other short pieces