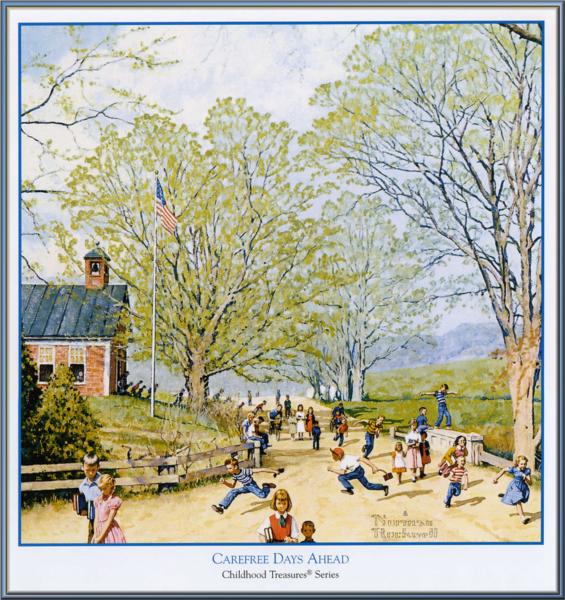 There is a curious paradox which no one can explain.
Who understands the secrets of the reaping of the grain?
Who understands why spring is born out of winter's laboring pain,
Or why we all must die a bit before we grow again?
[from "The Fantasticks," lyrics by Tom Jones]
Thus did the long sad years glide on, and in seasons and places Divers and distant far was seen the wandering maiden;–Now in the Tents of Grace of the meek Moravian Missions,
Now in the noisy camps and the battle-fields of the army,
Now in secluded hamlets, in towns and populous cities.
Like a phantom she came, and passed away unremembered.
Fair was she and young, when in hope began the long journey;
Faded was she and old, when in disappointment it ended.
Each succeeding year stole something away from her beauty,
Leaving behind it, broader and deeper, the gloom and the shadow.
Then there appeared and spread faint streaks of gray o'er her forehead,
Dawn of another life, that broke o'er her earthy horizon,
As in the eastern sky the first faint streaks of the morning.
[Henry Wadsworth Longfellow, "Evangeline: A Tale of Acadie", Part the Second – IV]
Every stage of life confronts us with challenges that are particular to that age. As we age, our perspective on life changes but those changes are particular to the individual. Most people are carefree about time while they are young and become more focused on it as they age. Others are prematurely grey. Some of those people remain so all their lives, while others gain a peace and serenity about time, aging and mortality as they age. Because this is just a way of looking at things, it is unique to each person.
Beginning and ending, growing and declining: these are the changes we cannot control. Still, we can choose how to approach these inevitable changes. We can choose how to look at things and where to concentrate our energy. We can choose to focus our attention wherever it will serve and others best. We can resolve to accept the things we cannot change so that we can change the things we can. A central task for the remainder of the year will be to bring this choice into greater focus and give it, and ourselves, renewed life.
As we move from one chapter to another in our lives, we do well being mindful of the beginnings and endings over which we have no control. We are aware of our mortality and also of the emergence of new life. Awareness and acceptance – better still, embracing – of this cycle is important to our mental and emotional well-being.
Real
Photographs
Imaginary
Visual Arts
Music: songs and other short pieces
Ending:
Iris Dement,

Our Town

Paul Simon, "Night Game"
Schubert, Das Abendrot (Sunset), D. 627
B.B. King,

"

The Thrill Is Gone

"

Third Coast Percussion, Twilight
Franz Schubert (composer), Abendlied (Evening Song), D. 276 (1815) (lyrics)
Franz Schubert (composer), Schwangesang (Swan Song), D. 318 (1815) (lyrics)
Franz Schubert (composer), An die untergehende Sonne (To the Setting Sun), D. 457 (1816) (lyrics)
Franz Schubert (composer), Abendröte (Evening Glow), D. 690 (1820) (lyrics)
Declining:
Film and Stage
Music: Composers, artists, and major works
Three great song cycles by Franz Schubert (1797-1828) develop the themes of decline and new growth that so capture the feel of this time of the year. Winterreise (Winter Journey) (1827), set to poems by Wilhelm Müller, explores the theme of loss, decline and despair. Here are links to complete performances by Fischer-Dieskau with Moore; Fischer-Dieskau with Pollini; Kaufman with Deutsch; Greindl with Klust. Links to the individual songs follow.
In 1993, Hans Zender reimagined Schubert's Winterreise, adding instrumentation, and also adding approximately thirty minutes of music. He titled it "Schubert's Winterreise - Eine komponierte Interpretation for tenor and small orchestra". Audio-visual recordings feature tenors Sebastian Kohlhepp and Daniel Behle, respectively; Hans Peter Blochwitz is the tenor on the world premier audio recording.
Schubert, Die Schöne Müllerin (The Lovely Milleress) (1824) is also set to Müller's poems. It expresses the theme of budding growth. Here are links to complete performances by Jonas Kaufman, Ian Bostridge and Fritz Wunderlich. Individual songs from the cycle are listed here.
Schubert, Schwanegesang (Swan Song), D 957 (1828), returns to the theme of decline. Hotter in 1954, Fischer-Dieskau in 1958, Fischer-Dieskau in 1972, Fischer-Dieskau in 1983, Terfel in 1991, Quasthoff in 2000, Güra in 2007, Prégardien in 2008, Maltman in 2010 and Padmore in 2011 gave great performances.
Works by Delius:
Other works:
Purcell, Dido and Aeneas (1689) is a story about the joys, decline and death of two romantic lovers. Facing Dido's impending death, Aeneas sings: "Death alas I cannot shun, death must come when he is gone." (Here are links to performances conducted by Christie, Dumestre and Gardiner.)
Bainbridge, Ad Ora Incerta, Four Orchestral Songs from Primo Levi for mezzo-soprano, bassoon and orchestra (1994)
Fürstenthal, 16 Lieder und Balladen vom Leben und Vergehen (16 Songs and Ballads of Life and Passing)
Bloch, Poèmes d'automne for mezzo-soprano and orchestra
Herbert, Sunset (1912)
Corigliano, Elegy (1965)
Richard Wilson, String Quartet No. 3 (1983)
Weinberg, Symphony No. 19, Op. 142, "Bright May" (1985): a celebratory ending, marking the end of World War II
Weber: Symphony No. 1 in C Major, Op. 19, J50 (1807); Symphony No. 2 in C Major, J51 (1807)
Nordheim, Nedstignengen (The Descent), for recitation, mixed chorus, soprano, orchestra & electronic sounds (1996)
Nordheim, Nachruf for strings (1975)
Lash, Frayed
Lash, Suite: Remembered and Imagined
Langaard, Symphony No. 4, "Løvfald" (Leaf Fall), BVN 124 (1916, rev. 1920)
Langaard, Symphony No. 14, "Morgenen" (The Morning), BVN 336 (1947-1948/1951)
Goebbels, In the Country of Last Things
Raga Marwa (Marva), a Hindustani classical raag for twilight or sunset, expresses a feeling of anxiety and expectation (performances by Banerjee, Sharma, and Asad Ali Khan).
Frith, "Fell"
Klebanov, Piano Trio No. 2 (1958): "The highlight is an expansive Adagio that takes in eloquent solos or duos for all three instruments en route to a coda affective its expressive restraint, countered by a final Allegro whose methodical unfolding ultimately finds resolution in a fatalistic revisiting of the music heard at the outset." [Richard Whitehouse, Gramophone magazine, November 2021 issue, p. 51.]
Mark Abel, Approaching Autumn (2020)
Ian Farrington, "Lamenting Lullaby" for Oboe and Strings (2018), about grief and the tragedy of death at childbirth
Pēteris Vasks, Cuckoo's Voice (Spring Elegy), for piano (2021)
Albums:
Fictional Narratives
Marius gradually won Cosette away from Jean Valjean. Cosette allowed it. Moreover that which is called, far too harshly in certain cases, the ingratitude of children, is not always a thing so deserving of reproach as it is supposed. It is the ingratitude of nature. Nature, as we have elsewhere said, "looks before her." Nature divides living beings into those who are arriving and those who are departing. Those who are departing are turned towards the shadows, those who are arriving towards the light. Hence a gulf which is fatal on the part of the old, and involuntary on the part of the young. This breach, at first insensible, increases slowly, like all separations of branches. The boughs, without becoming detached from the trunk, grow away from it. It is no fault of theirs. Youth goes where there is joy, festivals, vivid lights, love. Old age goes towards the end. They do not lose sight of each other, but there is no longer a close connection. Young people feel the cooling off of life; old people, that of the tomb. Let us not blame these poor children. [Victor Hugo, Les Misérables (1862), Volume V – Jean Valjean; Book Ninth – Supreme Shadow, Supreme Dawn, Chapter I, Pity for the Unhappy, But Indulgence for the Happy.]
Novels:
Poetry
BEGINNING:
And I draw in fresh sustenance,
New blood from the untrammeled world:
How gracious and generous is nature,
Who holds me to her bosom!
The wave sways our boat
To the rhythm of the oars,
And mountains, nebulously reaching for heaven,
Meet our course.
Eye of mine, why are you downcast?
Golden dreams, have you returned?
Away dream, golden though you are:
Here, too, there are love and life.
A thousand hovering stars twinkle on the wave,
Soft mists drink the towering horizon around us,
The morning breeze flutters over the shaded bay,
And the lake reflects the ripening fruit.
[Johann Wolfgang von Goethe, "On the Lake"]
ENDING:
GROWING:
DECLINING: