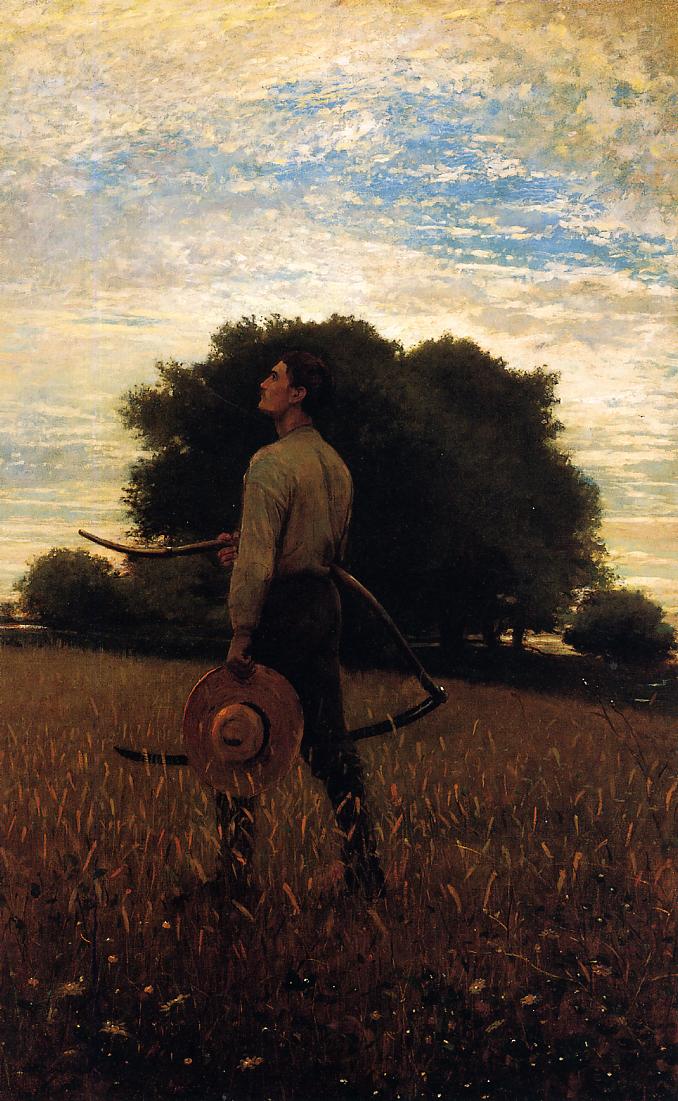 The natural environment is essential to the survival of the human or any other species. It is so important and its narratives are so rich that I have divided our treatment of it into several sections. The first includes narratives about people who have expressed an appreciation for nature.
Real
True Narratives
The city is interesting; but the tactual silence of the country is always most welcome after the din of town and the irritating concussions of the train. How noiseless and undisturbing are the demolition, the repairs and the alterations, of nature! With no sound of hammer or saw or stone severed from stone, but a music of rustles and ripe thumps on the grass come the fluttering leaves and mellow fruits which the wind tumbles all day from the branches. Silently all droops, all withers, all is poured back into the earth that it may recreate; all sleeps while the busy architects of day and night ply their silent work elsewhere. The same serenity reigns when all at once the soil yields up a newly wrought creation. Softly the ocean of grass, moss, and flowers rolls surge upon surge across the earth. Curtains of foliage drape the bare branches. Great trees make ready in their sturdy hearts to receive again birds which occupy their spacious chambers to the south and west. Nay, there is no place so lowly that it may not lodge some happy creature. The meadow brook undoes its icy fetters with rippling notes, gurgles, and runs free. And all this is wrought in less than two months to the music of nature's orchestra, in the midst of balmy incense. The thousand soft voices of the earth have truly found their way to me--the small rustle in tufts of grass, the silky swish of leaves, the buzz of insects, the hum of bees in blossoms I have plucked, the flutter of a bird's wings after his bath, and the slender rippling vibration of water running over pebbles. Once having been felt, these loved voices rustle, buzz, hum, flutter, and ripple in my thought forever, an undying part of happy memories. [Helen Keller, The World I Live In (1907), chapter V, "The Finer Vibrations".]
Other narratives:
Documentary and Educational Films
National Geographic Wild series and other nature documentaries:
Africa:
South America:
Asia:
North America:
Australia:
Europe:
Islands:
Oceans:
Technical and Analytical Readings
Naturalistic or naturalist intelligence is sure to be correlated with an appreciation for nature. It is defined as "Ability to recognize and categorize plants, animals and other objects in nature". "Those who are skilled at naturalist intelligence are good at categorizing information and recognizing patterns." Identification of naturalistic intelligence has spawned curiosity about education and training in biology and other naturalist fields. "Learning Desire Is Predicted by Similar Neural Processing of Naturalistic Educational Materials".
Functional brain imaging reveals that people hear differently in naturalist settings than in artificial settings. Observations of neural activity suggests that the brain responds particularly to naturalist tasks. However, the research into this aspect of intelligence is relatively sparse, leaving us to wonder why.
Imaginary
Visual Arts
Music: songs and other short pieces
Poetry
It may indeed be phantasy, when I
Essay to draw from all created things
Deep, heartfelt, inward joy that closely clings;
And trace in leaves and flowers that round me lie
Lessons of love and earnest piety.
So let it be; and if the wide world rings
In mock of this belief, it brings
Nor fear, nor grief, nor vain perplexity.
So will I build my altar in the fields,
And the blue sky my fretted dome shall be,
And the sweet fragrance that the wild flower yields
Shall be the incense I will yield to Thee,
Thee only God! and thou shalt not despise
Even me, the priest of this poor sacrifice.
[Samuel Taylor-Coleridge, "To Nature"]
Other poems:
Music: Composers, artists, and major works
R. Strauss, Eine Alpensinfonie (An Alpine Symphony), Op. 64 (1915): depicting a day in the mountains. Top recordings were conducted by Strauss in 1941, Knappertsbusch in 1952, Böhm in 1957, Mravinsky in 1962, Kempe in 1966, Karajan in 1980, Karajan in 1985, Maazel in 1998, Thielemann in 2000, Schwarz in 2001, Bychkov in 2010 and Jansons in 2017.
Vaughan Williams, Symphony No. 3, "A Pastoral Symphony" (1922): the work evokes the "impersonality and otherness of nature" but the more likely historical genesis is the composer's yearning for home.
American composer Ferde Grofé is best known for his Grand Canyon Suite but he composed several other works in the same vein:
Other works:
Albums:
Fictional Narratives
Novels and stories: