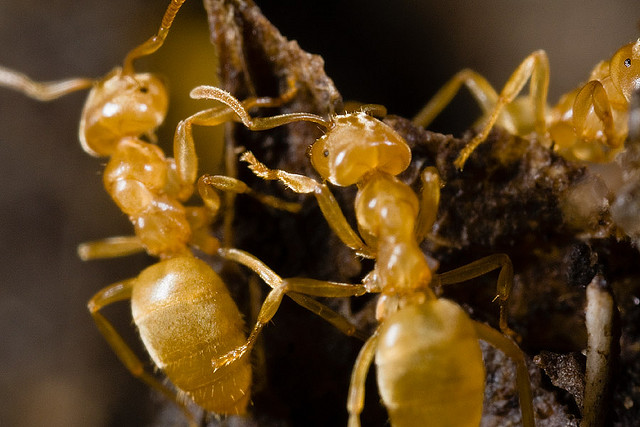 Life invites us to act. Most of us work or go to school, have responsibilities and spend much of our time serving others. Even those who live a meditative life must practice their teachings, not to mention eat and do those things necessary to survival. Our actions are the means by which we give back some measure of good and experience it for ourselves. However, before we get to ethical action, we need some building blocks.
The three domains of ethical Being correspond roughly to three regions of the brain. The brainstem, which develops first, is the primary but not exclusive seat of autonomic action, such as breathing, eye movements, blood pressure, heartbeat and swallowing. Many areas of the brain are activated in anticipation and experiences of pain. In significantly premature neonates, mother's voice and heartbeat sounds appear to enhance development of the auditory cortex in the neonatal brain, strongly suggesting that the brain is building neural connections in the cerebral cortex at that stage of development. The medulla oblongta and pons, in the brainstem, control autonomic breathing but the cerebral cortex can exercise control over voluntary breathing. Consciously directed breathing control techniques can produce desirable changes in parasympathetic nervous system activity (autonomic) and the central nervous system, and improve emotional control and psychological well-being. We can exercise control over our eye movements. Autonomic swallowing is controlled from within the medulla oblongata but we can choose when and whether to swallow. After a few months outside the womb, a child may be able to bring food to his mouth but not yet handle a fork or a pair of chopsticks with any efficiency. These skills develop gradually, and what starts in the brainstem does not remain confined to the brainstem.
Autonomic action and purposeful action are profoundly different from each other. Doing advanced mathematics, making music, taking political action, mating behaviors and many other human activities are substantially processed well above the brainstem.
The difference between autonomic functions and purposeful actions can analogized but not perfectly compared to the different approaches to life that we take in early childhood, versus the approaches we take in adulthood. In infancy, the midbrain brain and cerebral cortex have not yet developed sufficiently to produce or recognize an emotion like those associated with loyalty; over time our emotions develop and become more complex. In the first two years after birth, the brain develops quickly. Still, in infancy and childhood, most humans are not yet capable of performing advanced calculus; by adulthood and with the development of the cerebral cortex, that capability may be present. A newborn infant can be seen largely as a creature of the brain stem, acting with some emotion and little thought. Throughout childhood, learning progresses and that order shifts, so that by adulthood, the dominant model is to think first, process our emotions, then act. By adulthood, our actions are informed more fully by the parts of the brain that process thoughts and emotions, as well as by those that allow us to act purposefully. Autonomic actions are neither ethical nor unethical. Very young children are not held to be responsible for their actions in the law. Purposeful actions have an ethical quality but before we get to those, we are well-advised to consider their foundations in the brain. Early child development theory recognizes that children learn by acting, and so do we adults; yet many of our actions, both as children and as adults, are informed by our thoughts, sensations and emotions, rationally and reflectively considered.
Life-in-Being invites us to act purposefully. Most of us work or go to school, have responsibilities and spend much of our time serving others. Even those who live a meditative life must practice their teachings, not to mention eat and do those things necessary to survival. Our actions are the means by which we give back some measure of good and experience it for ourselves
Action is the culmination of ethics, so in Ethical Culture many of us say "deed over creed." I have always thought that too general a statement, literally interpreted. It is true that words without actions are empty; however, actions without thoughts are reckless, and actions uninformed by emotion are rudderless. To employ a Christian metaphor, the Father principle (thought) and the Mother principle (emotion) produce the Son (action), who comes into the world, dirties his hands and builds a life. You need not see it that way but you can. The religious, spiritual, ethical and moral life at its best is not a struggle for dominance of one domain or point of view but a constant striving to bind them together into a coherent whole. Felix Adler was reacting to the unsubstantiated elements in religion, emphasizing that Ethical Culture was a religion of ethical responsibility and action.
Brain development makes it possible for us to build roads, nurture others and create civilization. By adulthood, the necessary foundations are in place. We decide what to make of them.
Real
True Narratives
Long before human beings evolved, other organisms were busy. Early in the evolutionary history of animals, organisms were essentially all action. Ants, for example, have no brains as such, mainly a smaller organ, which biologists call the mushroom body. These tiny mushroom bodies house no emotional center and no thought processes as we know them. To say the least, we have no reason to suppose that ants are self-aware. Ants are almost purely organic action machines.
Perhaps the single greatest work on this fascinating species is Bert Hölldobler and Edward O. Wilson, The Ants (Belknap Press of Harvard University Press, 1990). This massive work won a Pulitzer Prize in 1991. I offer it as part of a human(ist) narrative because it tells a part of the story of our evolutionary history and because it illustrates how these tiny creatures, virtually without thought or emotion, function effectively because they can act.
Despite having one of the most rudimentary information processing mechanisms in the animal kingdom, ants are "among the most highly social of all creatures," according to the front flap of the hardcover edition, which goes on to say: "The study of ants has produced many basic insights into the origins of altruistic behavior, the use of chemicals (pheromones) in communication, the functioning of caste systems and division of labor, and other important phenomena of social organization."
The point is that seemingly complex behaviors can be products of little more than a few chemicals and a precursor to a brain. The authors also explain how ants comprise the database that allows myrmecologists (biologists who study ants) to study "biological organization." On page 3 of their hardcover edition, they write: "Although it is virtually impossible to dissect a higher organism into its constituent parts for study and then put it back together again, alive and whole, this can easily be done with an insect colony." The authors go on to explain how dividing ant colonies can replicate the process of mutation, allowing scientists from entomologists to human psychologists to gain additional insights into the means and background of social organization and other behaviors. While caution is in order regarding any comparison between ants and humans, a study of the story of ants does provide valuable information for understanding animal behaviors such as social organization and the evolutionary process that makes it all possible.
This magnum opus is superbly written. Review after review praised it for its accessible narrative style. May this brief and meager introduction induce the reader to peruse this marvelous account of a small part of the story of life on Earth.
Ballet is one highly sophisticated form of action, along with other forms of dance.
Technical and Analytical Readings
Documentary and Educational Films
Ants:
Bees:
Beatles:
Caterpillars and Butterflies:
Spiders:
Flies:
Other insects:
Imaginary
Fictional Narratives
So out of the ground the Lord God formed every beast of the field and every bird of the air, and brought them to the man to see what he would call them; and whatever the man called every living creature, that was its name. The man gave names to all cattle, and to the birds of the air, and to every beast of the field; but for the man there was not found a helper fit for him. So the Lord God caused a deep sleep to fall upon the man, and while he slept took one of his ribs and closed up its place with flesh; and the rib which the Lord God had taken from the man he made into a woman and brought her to the man. Therefore a man leaves his father and his mother and cleaves to his wife, and they become one flesh. [The Bible, Genesis 2:19-24.]
"In the sweat of your face you shall eat bread till you return to the ground, for out of it you were taken; you are dust, and to dust you shall return." [The Bible, Genesis 3:19.]
Music: Composers, artists, and major works
There are two kinds of action: autonomic and purposeful. Music that might express autonomic action is in the previous section. This section deals with purposeful action.
The drum is perhaps our oldest musical instrument. "Initially used by our prehistoric ancestors just as a simple object that were hit by the stick, drums came into their modern form some 7 thousand years ago when the Neolithic cultures from China started discovering new uses for alligator skins." ". . . music started with the most primitive percussion instruments, in times before first civilizations even existed." "Even monkeys like to beat a rhythm by striking hollow trees, and the rhythmic beating of a mother's heart is the first, most familiar sound that a child hears in the womb." Though drums are widely used in combination with instruments that are best known for pitch production, unaccompanied drumming best evokes music as an inducement to act.
A primary exponent of this music was Babatunde Olatunji, who is widely credited with bringing African music to the West. His albums and live performances include:
The tabla is an essential instrument in Indian classical music. Here are some performances where the tabla is the featured instrument, listed by artist:
Other examples from the genre include:
Here are a few videos:
And some great artists:
Steve Reich, Drumming
Iannis Xenakis was a contemporary composer who won the 1999 Polar Prize "for a long succession of forceful works, charged with sensitivity, commitment and passion, through which he has come to rank among the most central composers of our century in the realm of art music . . ." "Xenakis' mathematical proficiency led him to develop computer programs, algorithms and synthesizers to create unique sounds." He left us with a wealth of percussion works.
Other compositions:
Albums:
Visual Arts