Peace has to be created, in order to be maintained. It is the product of Faith, Strength, Energy, Will, Sympathy, Justice, Imagination, and the triumph of principle. It will never be achieved by passivity and quietism. [Dorothy Thompson]
People crave Love, both the receiving and the giving, and while love-starved passion can upset the soul, deep harmonic Love brings peace, if we savor it in the here and now and avoid the strong temptation to become attached to it. It is a narrow tightrope to walk but those who can do it know a joy that others can only imagine.
Without passion, Love lacks creative power. Without harmony, it can easily be destructive. When both elements are present, Love becomes an instrument of peace.
Real
True Narratives
Book narratives:
Technical and Analytical Readings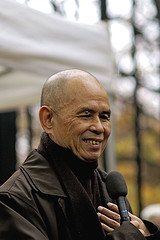 Whenever I read anything by Thich Nhat Hanh, a sense of peace comes over me. As soon as I begin reading, without even thinking about it, I breathe deeply. That is the peace this man's gentle way brings to me, even on the printed page.
Imaginary
Visual Arts
Film and Stage
Music: songs and other short pieces
Poetry
Beautiful is the 'thank you'
Wrapped with gratitude,
Offered to peace prone people
Who offer what is real-themselves
To nurse with love and humility
napalm asphyxiated victims
in our stained world
veiling ambition with face of
humanity. Beautiful is the moment
when sunlit world fades away
And with it mind made mirror
While look inward drawn, sight insight led,
and heart shuts out desire to let in
consciousness.
[yoonoos peerbocus, "A Hint At What Is Beautiful?"]
Other poems:
From the dark side:
Music: Composers, artists, and major works
Albums:
The Monks of Sherab Ling Monastery have released an album called "Sacred Tibetan Chant" on which they intone for world peace and harmony.
The Gyuto Monks Tantric Choir, "Tibetan Chants for World Peace" album
Shivkumar Sharma and Hariprasad Chaurasia, "The Valley Recalls" album: Peace
Jagjit Singh, "Parwaaz" album: this live concert of ghazals at the Esplanade in Sinapore is notable for its palpable good feeling of peace through love.
Jack DeJohnette, "Peace Time"
Ricky Kej and Wouter Keller, "Winds of Samsara"
Klaus Wiese, "Touch of Silence -Tibetan Singing Bowls" (2005)
Guo Gan & Aly Keita, "Peace in the World"
Ustad Saami, "Pakistan Is for the Peaceful"
Joy Ellis, "Peaceful Place", on inner peace
Works from the Western classical idiom:
An Indian raga:
From the singer Imee Ooi: