Peace has to be created, in order to be maintained. It is the product of Faith, Strength, Energy, Will, Sympathy, Justice, Imagination, and the triumph of principle. It will never be achieved by passivity and quietism. [Dorothy Thompson]
People crave Love, both the receiving and the giving, and while love-starved passion can upset the soul, deep harmonic Love brings peace, if we savor it in the here and now and avoid the strong temptation to become attached to it. It is a narrow tightrope to walk but those who can do it know a joy that others can only imagine.
Without passion, Love lacks creative power. Without harmony, it can easily be destructive. When both elements are present, Love becomes an instrument of peace.
Real
True Narratives
Book narratives:
Technical and Analytical Readings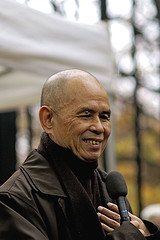 Whenever I read anything by Thich Nhat Hanh, a sense of peace comes over me. As soon as I begin reading, without even thinking about it, I breathe deeply. That is the peace this man's gentle way brings to me, even on the printed page.
Imaginary
Visual Arts
Film and Stage
Music: songs and other short pieces
Poetry
Beautiful is the 'thank you'
Wrapped with gratitude,
Offered to peace prone people
Who offer what is real-themselves
To nurse with love and humility
napalm asphyxiated victims
in our stained world
veiling ambition with face of
humanity. Beautiful is the moment
when sunlit world fades away
And with it mind made mirror
While look inward drawn, sight insight led,
and heart shuts out desire to let in
consciousness.
[yoonoos peerbocus, "A Hint At What Is Beautiful?"]
Other poems:
From the dark side:
Music: Composers, artists, and major works
Benjamin Britten, War Requiem, Op. 66 (1962) (approx. 81-91'): "Britten scholar Peter Evans noted that the War Requiem 'represented... a conscious resolve on the composer's part to put the experience of his entire creative activity to that date at the service of a passionate denunciation of the bestial wickedness by which man is made to take up arms against his fellow.'" You might be torn about whether this is a war requiem or a peace requiem. When you hear the gentle, plaintive music, all doubts will vanish. "Britten's work is harrowing and mournful, with its extraordinary interweaving of the traditional Requiem text and poetry by Wilfred Owen (who was killed in action by a sniper a week before the end of World War I) in a bright, bold and beautiful musical style. And there's no mistaking Britten's political intention. On the title page, he quotes Owen: "My subject is War, and the pity of War./The Poetry is in the pity.../All a poet can do today is warn.' " Top performances are conducted by Britten in 1963, Rattle in 1983, Hickox in 1991, Gardiner in 1992, and McCreesh in 2013.
Composed during an uneasy year between two world wars, Ralph Vaughan Williams, Dona Nobis Pacem (Grant Us Peace) (1936) (approx. 34-39'), is a plea in music and in words for peace. In World War I, Vaughan Williams "served as an artillery officer, and the thundering of the big guns would ultimately destroy his hearing. Vaughan Williams' wartime experiences affected him profoundly, shaping his entire view of human nature. After the war, he grappled with these experiences through his music, seeking to come to terms with all that he had seen and to rediscover his place in civil society." In 1936, Hitler was threatening Europe and the world. "Vaughan Williams' perspective was no longer bound to the geography of England. His empathy now enfolded a world faced with another war." We are left to ask: "Does art make any difference in the world? Or is it just a diversion, a kind of pleasant 'entertainment,' safely insulated from the ugliness of the real world?" Vaughan Williams conducted the premier performance in 1936, with the BBC Symphony Orchestra & Chorus. Other excellent performances are conducted by Boult in 1973, Hickox in 1992 ***, Shaw in 1998, Hill in 2009, Cleobury in 2017.
Albums:
Works from the Western classical idiom:
An Indian raga:
From the singer Imee Ooi: