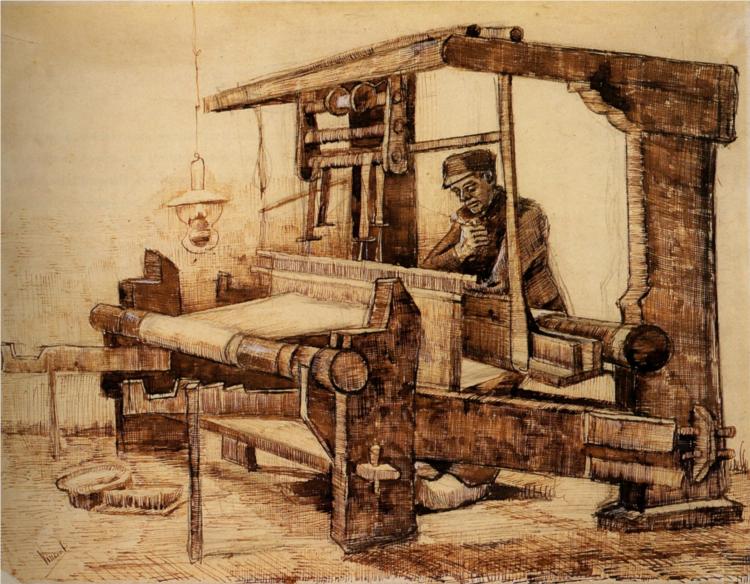 In van Gogh's painting: "The confining structure of the large loom displays the weaver fully absorbed in his task, reflecting a parallel intensity van Gogh sensed in his own endeavors."
Beyond mere interest is emotional involvement. This does not mean being emotionally consumed or debilitated but only that the individual is involved to such a level as to make the attainment of excellence likely. At this level, the individual does not quite display enthusiasm, which is the fourth level.
Imaginary
Visual Arts
Music: Composers, artists, and major works
Antonio de Cabezón (1510-1566) was a Spanish Renaissance-era composer from Iberia. In the hands of organist Claudio Astronio, at least, Cabezón's music conveys a feeling of unfailing involvement, like the weaver in van Gogh's drawing. With its sustained tones on organ and the music's continuous movement from one often-complex chord to another, the listener has a sense of being led invitingly through Cabezón's world. Perhaps this blind composer had something of that feeling himself, deprived as he was of his sight since childhood. Whether for solo organ or for organ accompanied by ensemble, Cabezón's music does what great music should do, drawing us into a world of sound and auditory motion in which we cannot help but become involved. As one reviewer has remarked: "If Cabezón's music may be said to embody any expressive characteristic, it is the somber magnificence of Spanish theatre, not just literally from the stage, but from the drama embedded in its music." I could not find links to any performances that convey or do justice to this sense, as does Astronio's set on the Brilliant label, linked above.
Romantic-era composer Henry Vieuxtemps' six violin concerti express the virtue of involvement.
A heads-up, on-your-toes quality runs throughout Bohuslav Martinů's six symphonies..
In Heitor Villa-Lobos' twelve symphonies, I hear one ubiquitous theme: the protagonist has mastered the practice of engagement and become involved in the world. No doubt Villa-Lobos would protest but that is what I hear: his symphonies contain much more, to be sure, but he seems to have written them with one consistent attitude, which dominates them to my ears. The subject matters Villa-Lobos associated with these works suggest that he was deeply involved in this effort, as well as in the world.
These string quartets by Alfred Hill do not seem to express any particular spiritual theme but they do illustrate the virtue/value of being involved.
Other works:
Geri Allen was a great straight-ahead jazz pianist. Her albums include:
Other albums:
Film and Stage
A well-constructed mystery illustrates the idea of emotional involvement. The heart quickens, the skin crawls, sweat appears. If only every science student could muster that degree of emotional involvement for the subject matter!
Alfred Hitchcock was a master of the genre. ". . . very few lawyers are gifted with the special ability which is his to put a case together in the most innocent but subtle way, to plant prima facie evidence without arousing the slightest alarm and then suddenly to muster his assumptions and drive home a staggering attack."
Agatha Christie was a great mystery writer but Hitchcock did not direct films based on her stories. Creating suspense is an art, which can be expressed in writing or on film, but one medium does not necessarily translate directly to another. "Some people don't know how to tell a joke." As a result, there are fewer great Agatha Christie films than Hitchcock films:
Other excellent films in this genre include:
Fictional Narratives
Novels:
Music: songs and other short pieces