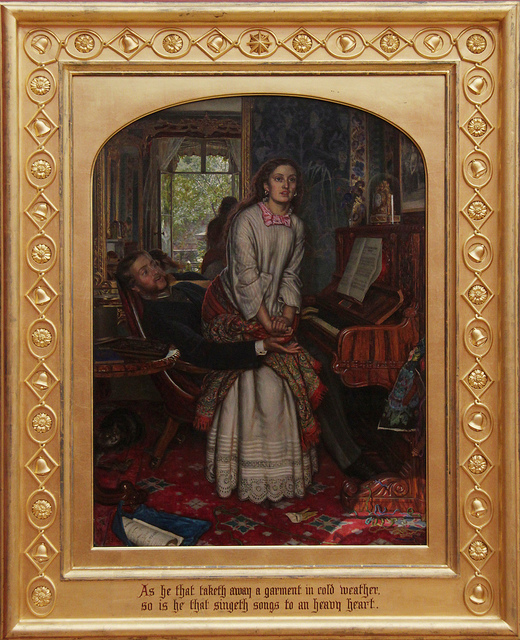 Before I can live with other folks I've got to live with myself. The one thing that doesn't abide by majority rule is a person's conscience. [Harper Lee, To Kill a Mockingbird (1960).]
The study of law can be disappointing at times, a matter of applying narrow rules and arcane procedure to an uncooperative reality; a sort of glorified accounting that serves to regulate the affairs of those who have power–and that all too often seeks to explain, to those who do not, the ultimate wisdom and justness of their condition. But that's not all the law is. The law is also memory; the law also records a long-running conversation, a nation arguing with its conscience. [Barack Obama, Dreams from My Father: A Story of Race and Inheritance (Crown, 2004), Epilogue.]
Conscience is the will to justice, objectivity is its directing force in the intellect and sharing is its rudimentary fruit. (If one person has all the resources, then everyone else has nothing.) Thus do we begin exploring the framework of the Human Faith model.
Barack Obama makes an important point about the law, in the statement from his first book quoted above. The law can be maddening but without the law, there is little hope that human affairs in a complex society of millions of people will be conducted with any sense of conscience. Too often, the law is the rich man's way of making sure he stays rich; still, laws offer a framework for the pursuit of justice. Faithful execution of the laws is essential; that is why the election of someone who is unconcerned with the norms of the law, and its constraints on power, so threatens our peace and security.
*****************************************************
Today we begin applying the framework of emotion, thought and action, which we established in Week 1. Justice is a global concept, which means that it operates in all three domains of Being: it has an emotional component and an intellectual component, and must be put into action if it is to bear fruit. We will use this framework throughout the year, though not every week because not every value operates along the plane of individual involvement. Universality, for example, is better analyzed at the social level, where the principle's denial is most salient: so in Week 2, we explored racism, sexism and other forms of arbitrary discrimination that deny the principle of universality.
In some weeks, we will explore a subject that is so important and so complex that it invites internal exploration. In Weeks 14 through 16, for example, we explore the three components of self-worth, in order: self esteem (emotion), self-respect (thought) and self-competence (action). Weeks 37 through 39 are devoted to the Creative Forces in our relations with others: Truth (intellect), Love (emotion) and Faith (action).
But consider the value, or virtue, or humility, which we reach in Week 5: its emotional component is modesty, its intellectual component skepticism and doubt (the awareness that we could be wrong and must subject our beliefs to evidence and reason) and its action component is forbearance. Consider Week 11, where we consider life as a journey: its emotional component is awe, its intellectual component is wonder and its active component is exploration.
Many other weeks are devoted to developmental virtues, such as Week 18, where we explore honesty, with open-heartedness being addressed on Monday, open-mindedness on Tuesday and open-handedness, or welcoming, on Wednesday. Earlier, in Weeks 6 and 7, we explore the first level of moral development. Week 6 is the week of "thou shalt not," or "do no harm," with non-malevolence on Monday, acknowledging the humanity of others on Tuesday and restraint on Wednesday. Week 7 is devoted to the first step in becoming involved in and with the world, with willingness, rationality and effort in that order. Much further along, in Week 36, creativity consists of enthusiasm (the emotional creative force), imagination and innovation.
So we could say that we are beginning the ethical journey with conscience, which we could describe as an impulse to care about the consequences of our actions and inactions. It is a fitting place to begin.
Real
True Narratives
I think I knew when I was naughty, for I knew that it hurt Ella, my nurse, to kick her, and when my fit of temper was over I had a feeling akin to regret. But I cannot remember any instance in which this feeling prevented me from repeating the naughtiness when I failed to get what I wanted. [Helen Keller, The Story of My Life (1904), chapter II.]
Most of these works could be placed under several headings, and the following bibliography covers a broader range of subjects than most others on these pages. However, consideration of these works, first separately and then as a collection, should explain the unifying theme of conscience.
Martin Luther King, Jr., The Trumpet of Conscience (1967)
Clayborne Carson and Kris Shepard, eds., A Call to Conscience: The Landmark Speeches of Dr. Martin Luther King, Jr. (Grand Central Publishing, 2001).
Lynn Stout, Cultivating Conscience: How Good Laws Make Good People (Princeton University Press, 2010).
Johann Voss, Black Edelweiss: A Memoir of Combat and Conscience By a Soldier of the Waffen-SS (Aberjona Press, 2002).
Eva Fogelman, Conscience and Courage: Rescuers of Jews During the Holocaust (Doubleday, 1994).
H. Jefferson Powell, Constitutional Conscience: The Moral Dimension of Judicial Decision (University of Chicago Press, 2008).
Mary Heidish, Defiant Daughters: Christian Women of Conscience (Liguori Publications, 2010).
Herant Katchadourian, Guilt: The Bite of Conscience (Stanford General Books, 2009).
Gitta Sereny, Into That Darkness: An Examination of Conscience (Vintage, 1983).

Harvey Sachs,

Toscanini

:

Musician of Conscience

(Liveright Publishing, 2017).

His son Walter remarked that the "'human side' of his character was even 'greater than his musicianship.'

"

Eyal Press,

Beautiful Souls: Saying No, Breaking Ranks

,

and Heeding the Voice of Conscience in Dark Times

(Farrar, Straus & Giroux, 2012). "

An act of conscience can mean turning away from your family, or your country, or even your sense of self.

"

Louisa Thomas,

Conscience: Two Soldiers, Two Pacifists, One Family

–

A Test of Will and Faith in World War I

(The Penguin Press, 2011): " . . .

Thomas examines how conscience fares when society considers it subversive.

"

Max Boot,

The Corrosion of Conservatism

:

Why I Left the Right

(W.W. Norton & Company, 2018). Conscience is only a beginning, as illustrated by this comment from a review: "

Boot's book aims to tell the story of a journey, but it's far more a portrait of stasis. If Boot and his ideological compatriots hope to exercise a meaningful influence in the years to come, they will need to subject their articles of faith to increased scrutiny and demonstrate a greater capacity to adapt to a world very much in the process of pivoting to something new.

"
Archibald Cox is best known for his role as Special Prosecutor during the Watergate investigation. He did his job so effectively that Richard Nixon order Attorney General Elliot Richardson to fire him. When Richardson refused the order, Nixon fired him; and when Deputy Attorney General William Ruckelshaus also refused the order, Nixon fired him, too. This series of events is known as the Saturday night massacre. By refusing to compromise their integrity, and in risking the President's wrath, they exemplified the distinction we call conscience.
All the good simple people in his novels . . . are what he wanted to have been, and his villains were what he was (or rather what he found in himself), his cruelty, his attacks of causeless enmity toward those who were helpless and looked to him for comfort, his shrinking from those whom he ought to love, being used up in what he wrote. There were two people in him, he told me: one who feels as he ought to feel and one who feels the opposite. [Fyodor Dostoyevsky on Charles Dickens]
From the dark side, including narratives of people who seemed to have no conscience:
Documentary and Educational Films
Technical and Analytical Readings
Technical literature on conscience:
Imaginary
Fictional Narratives
"Are you the Spirit, sir, whose coming was foretold to me?" asked Scrooge. "I am!" The voice was soft and gentle. Singularly low, as if instead of being so close beside him, it were at a distance. "Who, and what are you?" Scrooge demanded. "I am the Ghost of Christmas Past." "Long Past?" inquired Scrooge: observant of its dwarfish stature. "No. Your past." [Charles Dickens, A Christmas Carol (1843), Stave II: The First of the Three Spirits.]
"Mr. Scrooge!" said Bob; "I'll give you Mr. Scrooge, the Founder of the Feast!" "The Founder of the Feast indeed!" cried Mrs. Cratchit, reddening. "I wish I had him here. I'd give him a piece of my mind to feast upon, and I hope he'd have a good appetite for it." "My dear," said Bob, "the children! Christmas Day." "It should be Christmas Day, I am sure," said she, "on which one drinks the health of such an odious, stingy, hard, unfeeling man as Mr. Scrooge. You know he is, Robert! Nobody knows it better than you do, poor fellow!" "My dear," was Bob's mild answer, "Christmas Day." "I'll drink his health for your sake and the Day's," said Mrs. Cratchit, "not for his. Long life to him! A merry Christmas and a happy new year! He'll be very merry and very happy, I have no doubt!" The children drank the toast after her. It was the first of their proceedings which had no heartiness. Tiny Tim drank it last of all, but he didn't care twopence for it. Scrooge was the Ogre of the family. The mention of his name cast a dark shadow on the party, which was not dispelled for full five minutes. [Charles Dickens, A Christmas Carol (1843), Stave III: The Second of the Three Spirits.]
"Why not make a pecuniary sacrifice? I'm willing to bear my part of the inconvenience. O, Mr. Shelby, I have tried—tried most faithfully, as a Christian woman should--to do my duty to these poor, simple, dependent creatures. I have cared for them, instructed them, watched over them, and know all their little cares and joys, for years; and how can I ever hold up my head again among them, if, for the sake of a little paltry gain, we sell such a faithful, excellent, confiding creature as poor Tom, and tear from him in a moment all we have taught him to love and value? I have taught them the duties of the family, of parent and child, and husband and wife; and how can I bear to have this open acknowledgment that we care for no tie, no duty, no relation, however sacred, compared with money? I have talked with Eliza about her boy—her duty to him as a Christian mother, to watch over him, pray for him, and bring him up in a Christian way; and now what can I say, if you tear him away, and sell him, soul and body, to a profane, unprincipled man, just to save a little money? I have told her that one soul is worth more than all the money in the world; and how will she believe me when she sees us turn round and sell her child?--sell him, perhaps, to certain ruin of body and soul!" [Harriett Beecher Stowe, Uncle Tom's Cabin or Life Among the Lowly (1852), Volume 1, Chapter 5, "Showing the Feelings of Living Property on Changing Others".]
Novels:
From the dark side:
The trader had arrived at that stage of Christian and political perfection which has been recommended by some preachers and politicians of the north, lately, in which he had completely overcome every humane weakness and prejudice. His heart was exactly where yours, sir, and mine could be brought, with proper effort and cultivation. The wild look of anguish and utter despair that the woman cast on him might have disturbed one less practised; but he was used to it. He had seen that same look hundreds of times. You can get used to such things, too, my friend; and it is the great object of recent efforts to make our whole northern community used to them, for the glory of the Union. So the trader only regarded the mortal anguish which he saw working in those dark features, those clenched hands, and suffocating breathings, as necessary incidents of the trade, and merely calculated whether she was going to scream, and get up a commotion on the boat; for, like other supporters of our peculiar institution, he decidedly disliked agitation. [Harriett Beecher Stowe, Uncle Tom's Cabin or Life Among the Lowly (1852), Volume 1, Chapter XII, "Select Incident of Lawful Trade".]
Film and Stage
Visual Arts
Music: Composers, artists, and major works
Poetry