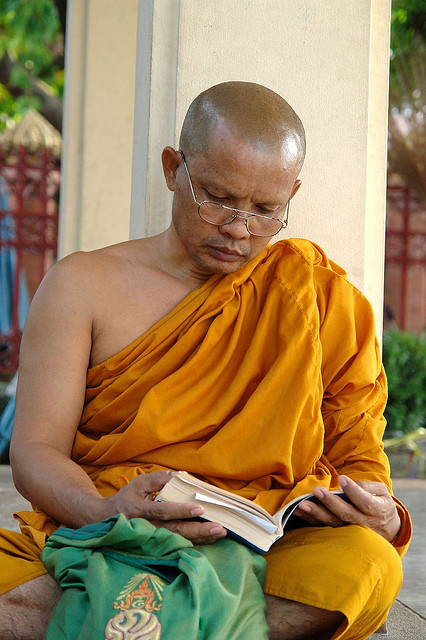 Mindfulness is to be aware of everything you do every day. Mindfulness is a kind of light that shines upon all your thoughts, all your feelings, all your actions, and all your words. [Thich Nhat Hanh, Going Home: Jesus and Buddha as Brothers (New York: Riverhead Books, 1999), p. 18.]
Mindfulness is a desired effect of humility. It is among the deferential virtues but it requires practice. It may be practiced even in times of intense activity. Despite all apparent contradictions, conceivably, a military commander could direct a strike in a mindful state.
Among the religions, Buddhism focuses most clearly on the subject. Buddhist literature on mindfulness conveys a sense of humble but active discipline. Reading these texts is like tasting a fine and complex wine: The palate becomes aware of the competing forces of peace and intense study, followed in no particular order by appreciation, understanding, compassion, empathy, a sense of being integrated and oriented, often called "being centered," and a lingering aftertaste of gratefulness. A keen sense of awareness is constantly present. The experience is like being enveloped by a benevolent controlling force.
Being mindful focuses the attention, helping the practitioner to move from meditative retreat into an active role in the world. By remaining in a state of mindfulness, we can retain humility and all its component parts and still lead an active and dynamic life, fully engaged and involved.
Real
Technical and Analytical Readings
Works by Thich Nhat Hanh on mindfulness:
True Narratives
It is more difficult to teach ignorance to think than to teach an intelligent blind man to see the grandeur of Niagara. I have walked with people whose eyes are full of light, but who see nothing in wood, sea, or sky, nothing in city streets, nothing in books. What a witless masquerade is this seeing! It were better far to sail forever in the night of blindness, with sense and feeling and mind, than to be thus content with the mere act of seeing. They have the sunset, the morning skies, the purple of distant hills, yet their souls voyage through this enchanted world with a barren stare. [Helen Keller, The World I Live In (1907), chapter VIII, "The Five-Sensed World."]
Imaginary
Music: Composers, artists, and major works
In 1944, the French composer Olivier Messiaen completed his two-hour, twenty-part collection of pieces for solo piano, entitled "Vingt Regards sur l'Enfant-Jésus", which translates roughly as "twenty contemplations on the infant Jesus." A devout Catholic with mystical inclinations, Messiaen intended the work as an expression of love for Christ but in its careful exploration of the subject from every perspective, I hear mindful contemplation. Neglected for decades after its composition, as many great works are, Messiaen's Vingt Regards has gained a considerable following in recent years, with several live performances and recorded performances by Osborne, Aimard, Loriod, Kars, Gómez, Chamayou and Hribar.
New Age music is a promising idea that seems to have gone horribly awry. Most compositions in this genre are formulaic, many of them resorting, after a few seemingly contemplative introductory bars, to percussive dominance that is hardly distinguishable from casual dance music. Perhaps because the genre has not gained respect, many performers of New Age music lack the skill of top-drawer musicians, reminding one of Groucho Marx's classic retort: "I've been thrown out of better places than this." Exceptions include the works of a group known as Dead Can Dance (Brendan Perry, Lisa Gerrard and others); some of Lisa Gerrard's solo work, including her ethereal "The Mirror Pool" album. Other Dead Can Dance albums include:
Other worthwhile New Age albums include:
Jazz albums:
Works from the Western classical idiom:
A sect of Tibetan monks practices a unique style of chant.
Poetry
Music: songs and other short pieces
Nawang Khechog, With Mindfulness and Wisdom